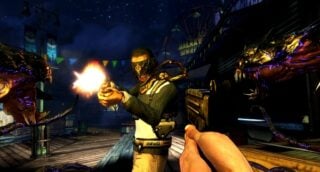 2K Games announced the pre-order bonus for The Darkness II today. From now until launch, consumers who pre-order the standard edition of The Darkness II will receive a free upgrade to the Limited Edition version.
The Limited Edition includes an alternate darkling outfit "Crazy Abdul," two ability upgrades (Gourmet Hearts: provides bonus for eat hearts; Relic Hunter: locates collectible items in the world), a custom illustration by Marc Silvestri, and a free digital download of The Darkness Origins volume 1 and volume 2 comics.
The Darkness II is due for PlayStation 3, Xbox 360, and PC on February 7 in North America and on February 10 worldwide.