Monolith Soft site update hinting at new project?
Monolith Soft, developer of Gamecube's Baiten Kaitos series and the more recent Xenoblade for Wii, updated their website today. The Nintendo-owned developer is looking for staff to work on new projects.
The job notifications are displayed within a flash file on the home page, which includes the following artwork in the background:
The same artwork was shown months ago, off-screen. Yasuyuki Honne was seen working on it.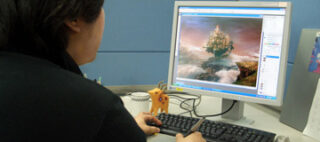 One NeoGAF member reckons it looks similar to the Baten Kaitos art style. Could a third entry in the series be coming to Wii U?