In 2006, Eidos and Io Interactive released the first Hitman game to ever hit a "next-gen" console. Five years later, Hitman: Absolution is the Denmark-based developer's new venture. The game sees the return of Agent 47, assigned to his most dangerous contract to date, betrayed by those he trusted and on the run from the police. In Absolution, he finds himself in the middle of a dark conspiracy and must take to a personal journey to discover the truth.
The pre-alpha build E3 demo kicked off in a rundown library set in a dark and rainy Chicago. A citywide manhunt has Agent 47 in peril, and he's finally been tracked down. Starting off empty-handed on the upper level of the library, the mission was not your traditional Hitman hit. Sneaking through library corridors and bookshelves, Agent 47 avoided the district of cops who busted in to investigate. Though gameplay-focused, the mission was created to be a cinematic one. The cops interacted with each other during the entire play through, cracking jokes, calling out one another, and at most points, filling the sterotype. Looking for clues, one cop mocked another, saying "you couldn't sniff a fart out your own ass." At an earlier point, the squad was checking areas, confirming across the room whether or not everything was secure. "Everything clear," one would say. "No sign of the perp," another would confirm. As Io described it during the preview, they're creating a "rich, living, breathing world" with Absolution.
Sneaking around the cops, Agent 47 used tactical methods to get by unseen. Going into Instinct mode, a new feature that lets players see through the eyes of Agent 47, he was able to sneak through. Instinct mode highlights enemies in an orange glow and reveals the tracks that Agent 47 expects them to take. When looking for ways to escape or trying to remain hidden, Instinct would come in its best use.
Dropping from a ledge to the lower level of the library, Agent 47 was as dangerously close to the cops as possible. One cop, a man the policemen call Fasciano (don't take my word on the name, but I think I got it right), is heard being constantly teased by his colleagues. Being the new guy, it's most proper. Agent 47 patrols the area behind Fasciano, who is struggling to fix the fuses in the electric box at the orders of his superior. "What's with this guy, always yelling at me? He's just like my mother," we heard Fasciano say. As he walked away from the box, Agent 47 sneaked to it and broke it permanently. Fasciano then returned, baffled and confused.
Absolution offers a new "freedom of choice" aspect. The path we saw the Io devs take isn't a set route. The player could go about the library stage on their own terms. As Agent 47 is always observing others, there's plenty of other ways to go about a mission.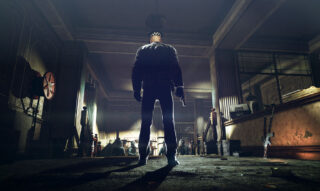 Agent 47, rockin' the disguise
Towards the end of the library scene, Agent 47 finally put himself in a good position — enough to take the rookie Fasciano hostage. Gun held to the newbie's head, the other cops went alert. "I don't wanna die," Fasciano said, afraid. "You ain't gonna die," responded the now-angst cop who'd constantly mocked him prior. Where typically jumping into the front lines meant it was fight or death for 47, in Absolution's library scene it was an artifice to pass by in a more strategic manner.
On the run, 47 found his way to the roof, where a helicopter chased him across a series of big city rooftops, opening fire as he jumped from building to building. At one point, 47 came across an officer patrolling the rooftops, who he took out, stole his clothes, and used them as a disguise. Disguises are not new to the franchise, but Absolution plays them off well. According to Io, disguises should be chosen carefully as "the world around you will react to that disguise." From there, 47 found his way into a rooftop hippie house, whose inhabitants were afraid of him as he entered with his cop uniform. Scribbles on the wall read "fuck the police." One guy ran from 47, into another room, holding a marijuana plant to his chest. Following him, we found a room filled with marijuana plants — a marijuana garden.
The real cops on their way upstairs, 47 took a bong from the hippie house and cracked an officer as he entered the room. From there, he slowly made his way downstairs and into a haven for police, all gathered on the first floor. Still in uniform, 47 makes his way over to a table of donuts, eating one to blend in. Another officer called him from across the room, thinking he's an ex-officer who left the force, but has now returned. 47 payed no attention, and instead made his way out into the rainy streets of Chicago, free of the force on his back just a few minutes prior.
Running on Io Interactive's new Glacier 2 engine, Hitman: Absolution certainly has aesthetic appeal. This is the grittiest looking Hitman game to date. Io promises it to combine the "much loved classic gameplay with completely new features for the Hitman franchise."
Hitman: Absolution is out in 2012 for PlayStation 3, Xbox 360, and PC. The demo we saw ran on PlayStation 3.