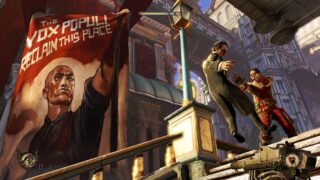 As I crammed my way into the final showing of the game at E3 2011, I wasn't exactly sure what to expect of BioShock Infinite. Unlike Sal, I have never played the previous two entries and my knowledge of the franchise is minimal. Prior to this demonstration, I had only seen the announcement trailer, but it provoked my interests enough. After seeing BioShock Infinite in action, I can see why everyone is crazy about the franchise. BioShock Infinite is one of the most profound and interesting games I have ever seen.
Our protagonist, Booker DeWitt, has been sent to rescue a young girl by the name of Elizabeth. Elizabeth is being hunted by the Songbird, a giant black bird blended with the machine of man. A creature of both beauty and horror, it appears to be wearing a tubed mask, similar to those worn by jet fighter pilots. As the demo began, DeWitt and Elizabeth made their way into a novelty shop. We saw wares of all kinds on the store's shelves — fireworks, hats, cups, posters, all representing some sort of patriotic ideal or historical figure / setting. The scene was short lived, as the Songbird descended upon the shop, peering his mechanical eyes inside. There was strong tension as DeWitt and Elizabeth hid behind one of the shop displays. A terrified Elizabeth covered her mouth with her hands, eyes wide open and in fright, trying to control her breathing so its sound doesn't alert the Songibrd. After a few heart pounding moments, the Songbird flew away, allowing Elizabeth and DeWitt to take their leave.
The chemistry between the Elizabeth and DeWitt is extraordinary. From the beginning, you are able to tell there is a relationship brewing between the two with how they communicate and act towards each other; unlike previous BioShock titles, the protagonist actually speaks in Infinite. Upon leaving, Elizabeth took DeWitt's hand, and forced him to promise her that he wouldn't let the Songbird take her away again, as she explains it could end in a fate worse than death. Signifying the moment, Elizabeth wrapped DeWitt's hand around her neck. It was a heartfelt and emotional moment.
https://www.youtube.com/watch?v=qTA86t8CnMc
Infinite's factions explained
As our two protagonists made their way through the streets of Columbia, DeWitt explained that he knows of assistance on the other end of the city. This person might be able to get them out of the sky and back down onto the world below, he continued.
Moving on, we saw our first glimpse at Elizabeth's unique and extraordinary powers. She is able to turn items and such through time, and assists DeWitt in combat and exploration. At one point, a scarred and bloody horse lied at Elizabeth's feet, as she attempted to turn him back through time to heal his wounds. Her efforts were futile, as she was not able to control her own powers yet, accidentally ripping the world open around her, and into the future. Following, we saw our two characters on an unnamed street, in front of a movie theater showing "Star Wars: The Return of the Jedi." Everyone in the show room had a good laugh at this. Though, of course, the danger is never ending in BioShock Infinite. DeWitt and Elizabeth yelled back and forth as she attempted to close the rift as fast as she can. A car is about to plow right through both of them. She closed the rift just in time, breaking down, admitting that DeWitt was correct — she cannot fully control her powers yet.
Combat was abundant during the presentation. In an attempt to save someone about to be hanged by one of Columbia's two opposing factions, DeWitt accidentally revealed himself, and was forced to use his gun against the attackers surrounding him. The gun action was smooth and the aiming on point. DeWitt took out multiple enemies by aiming down the sights of his firearm, taking Elizabeth by the hand to escape soon after. They were constantly attacked and ambushed by enemies, forcing DeWitt to abandon Elizabeth for a short time, to combat the ambush on the city's skyline rail system. Of course, not before DeWitt demonstrated his powers, pushing some unfortunate men into the air. One-upping Dewitt, Elizabeth opened a portal in which a skyline rail crate crashed into all of the suspended enemies.
https://www.youtube.com/watch?v=i6EOzBulQQ4
A look at Infinite's skylines
Skylines are not just DeWitt's territory, but his enemies', as well. Many of them will ride the rails and try to shoot you down. DeWitt fast moves down the rails, which resemble a first-person high-speed roller-coaster. They offer you perfect vantage points to shoot down opposing forces with a bird's eye view. There was a plethora of bullets, explosions and blood as the action went down. DeWitt was able to hop off and on the rails as he pleased, giving him opportunities to take out enemies head-to-head instead of merely zooming past them. Fortunately, the action didn't end with the rails. A blimp appeared in the sky, raining down rockets onto the sky city. DeWitt soon changed course with the full intent on taking that blimp out.
DeWitt boarded the blimp, making his way to the engine room, and taking out every enemy along the way. He shot the engine and its controls, igniting the blimp and sky diving off, screaming his way down, hoping to catch a rail to ride. He successfully attached himself to a rail and rode it down to Elizabeth. Finally, the chaos ended, DeWitt and Elizabeth now making their way to their destination. Unfortunately, the Songbird found its prey. A now captured DeWitt is spared as Elizabeth offers herself in exchange for DeWitt's life. She is taken by the Songbird, leaving DeWitt by his lonesome, ridden with anger and tears as the creature flew away.
BioShock Infinite — the characters, setting and plot all come together to create an experience like none before it. It's perfectly clear why fans of the series would be excited and on the edge of anticipation, waiting for more news and media releases surrounding the title. This has made me want to play the first BioShock. Luckily, those who purchase the PlayStation 3 version will get the first game free, on-disc.
BioShock Infinite will launch on PlayStation 3, Xbox 360, and PC in 2012.