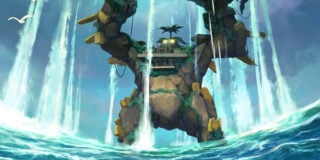 The latest entry in the Rune Factory franchise will come to North America by way of Natsume. Teased last week, Rune Factory: Oceans, released for Japan in February, will come to PlayStation 3 and Wii in North America as Rune Factory: Tides of Destiny.
"We know our loyal fans have been patiently awaiting news of a North American release for Rune Factory: Tides of Destiny, so we are thrilled to announce that the latest entry in the fan-favorite series is on its way. Better still, this entry is coming to both the Wii and PlayStation 3," Hiro Maekawa, President and CEO of Natsume told Siliconera. "Featuring a vast region to explore, a wonderful cast of characters, and a huge variety of activities to enjoy, Rune Factory: Tides of Destiny is sure to make waves!"
The game follows Fenith Island natives Aden and Sonja, who must cross oceans, battle enemies, and grow crops with the assistance of an island-moving golem named Ymir. It'll be on display at E3 next month, following a release later this year.