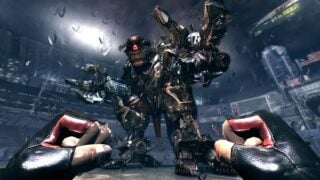 Duke Nukem Forever had a pretty big presence at PAX East this year. The booth looked like it was the home of big Duke, himself, complete with booth babes dressed like school girls and a gold throne for the king. Several demo stands of the game were set up for play; and after thirteen years of patience, we were able to get our hands on the game.
Before even starting the demo, the title sequence sent chills through my body. You would get chills too, finally getting your hands on a game that has been thirteen years in the making. The sequence was also one that screamed "badass," by showing clips of the game alongside "epic" quotes written by Duke himself. It's been a long time, and Duke seems to agree. "It's time to get this big guy back in action," he said.
The game demo took off with a urinal scene, prompting you to hold a button to begin draining the main vein in the urinal. You can urinate for as long as you want, and upon clicking the button each time, Duke will say something such as "Stop pissin' around," prompting you to do just that and actually start playing the game. Upon leaving the urinal, we're presented with a locker room in which soldiers are discussing a battle plan for taking out an alien outside. You may even walk up to the board and begin erasing and drawing whatever you feel like, in which one soldier will comment, "Wow Duke," or "I don't understand what it means, but that's awesome!" Or something akin to that. The humor is hysterical, classic, and fitting. Duke Nukem shows that it's back, and it wont cut down on any of the disgusting, perverted, or crude laughs.
Unfortunately, that's where the pleasantries ended. The demo seemed to be unclear of what it wanted us to do. The boss battle was simple — just strafe around the big alien, stomping his way through a football field, and shoot at it with rockets. Ammo had to be looked for, and wasn't really indicated in any way; so when we ran out of rockets, we kind of spent a good few minutes running the field looking for more rockets. Not the biggest offender at all, but what came next was a bit surprising.
The next sequence in the game had us driving a truck through a canyon, while running over enemies along the way. The controls were extremely clunky, and driving the vehicle was more a bigger task than I had hoped. The enemies that littered the canyon were hard to run over, and when they hit us, it hurt a lot. It was actually necessary to drive slowly through the canyon to make sure we avoid oncoming projectiles, and actually hit our targets, lest we become roadkill in our own car. The shooting mechanics were just as clunky. It felt as if there was almost a reverse auto-aim in place. Our reticle seemed to move very slow, but the second it targeted an enemy, it would speed up, and we would miss the enemy altogether. Again, this felt like a chore, and had to be done slowly in order to ensure we actually hit with our weapons. There were no options to tune it to your liking, either.
The gameplay was not what we had hoped, but it is just a demo, and we hope that it was just a demo issue that will not be represented in the final release version of the game. However, it wasn't so bad altogether, and if these problems do persist, Duke Nukem Forever will still be a game bought for its humor and for its name. Hopefully Gearbox doesn't believe they can sell it just because of the Duke Nukem brand, and they fix these issues before release.
Duke Nukem Forever launches on May 3rd, 2011 for PlayStation 3, Xbox 360, and PC.