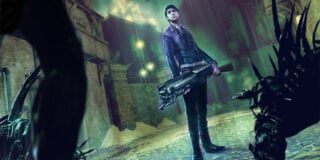 EA has officially announced Shadows of the Damned during their Tokyo Showcase this morning. It's a new psychological action thriller game from executive director Suda51 (director of No More Heroes), creative producer Shinji Mikami (director of Resident Evil) and music composer Akira Yamaoka (sound director of Silent Hill).
The game follows the story of the motorcycle-riding demon hunter Garcia, who will make his way through hell in order to save the woman he loves — using the power of light to do it, of course. As the player progresses through the game, they'll be challenged with a series of puzzles and gruesome battles against creatures so "vile and deformed" that they can only come from the underworld. It promises to offer players a "grotesque, highly stylized art direction that transports players into a grisly world" as well as "over-the-top action sequences and intense boss battles".
"We are excited to finally take the cover off our latest project and invite gamers from around the globe to experience this new, warped world we have created," said Goichi Suda, CEO of Grasshopper Manufacture. "By partnering with EA, a publisher that truly shares our commitment to quality and innovation, we have been able to develop Shadows of the Damned according to our ambitious vision while creating an entertainment property we believe will appeal to a global audience."
"With Shadows of the Damned, gamers will fight for love in the most difficult arena imaginable … hell," said Shinji Mikami, Creative Producer of Shadows of the Damned. "Players will find themselves surrounded by demons set on destroying their heart and soul. Only the strong will survive."
The game will be out next summer for PlayStation 3 and Xbox 360. Check out the first screenshots at the gallery. The debut trailer can be found below.