Level-5 Vision 2010 dated, lists four unannounced games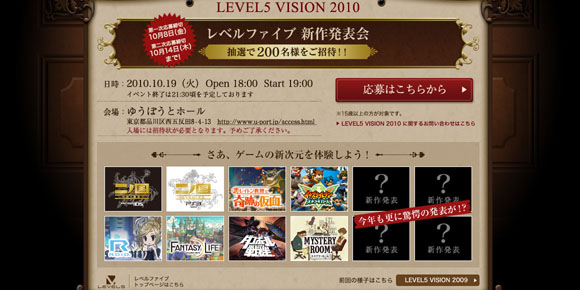 Level-5 has announced and dated this year's Level-5 Vision press conference, the annual press event where the developer announces new games. It'll happen on October 19 this year, starting at 7pm and ending at 9:30pm JST at U Port Hall in Gotanda.
The official website lists the conference's complete lineup of titles, four of them being surprises. Find the full lineup below:
Fantasy Life (DS)
The Little Battlers (PSP)
Inazuma Eleven Strikers (Wii)
Ni no Kuni: Shikkoku no Madōshi (DS)
Ni no Kuni: Shiroki Seihai no Joou (PS3)
Mystery Room (DS)
Professor Layton and the Mask of Miracle (3DS)
4 Unannounced Projects
So, what mysteries do you think await? Dragon Quest X? Time Travelers? Inazuma Eleven 4? Leave your thoughts. Get excited.