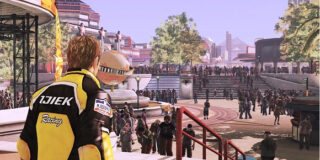 A new batch of screenshots for Capcom's upcoming Dead Rising 2 has come out of Gamescom today. They showcase the various areas of Fortune City where, come next month, players will be running around mowing down zombies.
The screenshot above is definitely my favorite of the batch.
Check out the screenshots at the gallery. Additionally, new screenshots of Xbox LIVE Arcade's Dead Rising: CASE ZERO can be seen at the gallery, as well.