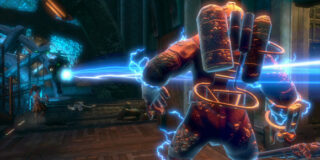 BioShock 2's upcoming downloadable content, 'Minerva's Den', has been dated this afternoon. Originally announced earlier this month, the content adds a new single-player story to the game where players take on the role of Subject Sigma, another alpha-series Big Daddy, and help Brigid Tenenbaum take down Rapturian dictator Reed Wahl. Wahl holds the keys to Minerva's Den, which houses a gigantic super computer named The Thinker. It's the players job to take him down and get those keys. In doing so, players will roam a brand new area named 'Rapture Central Computing'.
Additionally, the downloadable content will also include:
Ion Laser – a new weapon that harnesses the power of the sun in order create a strong beam.
Gravity Well – a new plasmid that – when thrown – creates a black hole that sucks up everything in its perimeter.
Lancers – a new type of Big Daddy that wield the Ion Laser weapon.
PlayStation 3 and Xbox 360 owners can get the DLC on August 31 for $9.99 or 800 Microsoft Points. The PC release is still to be dated. Check out the first screenshots for the content at the gallery.
Thanks, JoyStiq.