US PlayStation Store Update: July 6, 2010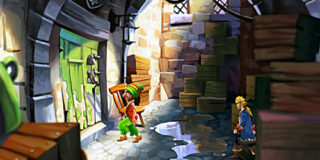 This week's PlayStation Store update is in. Amongst its new contents, notable releases include LucasArts' Monkey Island Special Edition 2: Lechuck's Revenge and Modern Warfare 2's 'Resurgence' map pack.
Also in the lot: LittleBigPlanet Marvel characters and level kit, Sweet Tooth for ModNation Racers, and what's this? Darkstalkers avatars? Interesting.
Check out the full update below.
Price Updates
Hamsterball – Sale (now $4.99, original price $9.99)
Death Track: Resurrection – Sale (now $7.99, original price $14.99)
Worms – Sale (now $7.99, original price $9.99)
Hamster Ball Unleashed – Sale (now $4.99, original price $9.99)
Breakquest – Minis – Sale (now $2.99, original price $3.99)
Normaltanks – Minis – Permanent Price Change (now $2.99, original price $4.99)
PlayStation Plus
Qore Episode 26 (July Single episode Free to PlayStation Plus subscribers)
Field Runners (Free to PlayStation Plus Subscribers)
King Zumo Theme (Free to PlayStation Plus Subscribers)
MAG Raven Character Avatar (Free to PlayStation Plus Subscribers)
MAG SVER Character Avatar (Free to PlayStation Plus Subscribers)
MAG Valor Character Avatar (Free to PlayStation Plus Subscribers)
Super Stardust HD Sale

Super Stardust HD (PlayStation Plus price $5.00, original price $9.99)
Super Stardust HD Team add-on Pack (PlayStation Plus price $2.50, original price $4.99)
Super Stardust HD Solo add-on Pack (PlayStation Plus price $2.50, original price $4.99)

TikGames/Creat Studios PlayStation Plus Sale

Hamsterball (PlayStation Plus price $3.99, original price $9.99)
Qore
Qore Episode 26: July 2010 ($2.99) – Episode 26 of Qore: Presented by the PlayStation Network takes viewers back to the Helghan homeworld in Killzone 3, previews Majin and the Forsaken Kingdom, chats with the creator of the PlayStation Move controller and explores Osaka, Japan.
Qore Annual Subscription: July 2010 ($24.99)
Downloadable Games
Family Feud ($9.99)
Monkey Island Special Edition 2: Lechuck's Revenge ($9.99)
Game Demos

Death Track: Resurrection Demo
Monkey Island Special Edition 2: LeChuck's Revenge Demo
Add-Ons
Aliens Vs. Predator Bughunt Map Pack ($6.99)
Call of Duty: Modern Warfare 2 Resurgence Package ($14.99) (Also available in French)
Dragon Age: Origins – Leliana's Song ($6.99)
Guitar Hero 5 Add-Ons

"Crazy Little Thing Called Love" – Queen ($1.99)
"Killer Queen" – Queen ($1.99)
"Somebody To Love" – Queen ($1.99)
Queen 2 Track Pack ($5.49) – Downloadable Track Pack featuring "Crazy Little Thing Called Love", "Killer Queen", and "Somebody To Love" by Queen. Please Note: Many songs are available both as singles and as part of a Track Pack, so please carefully consider your purchases before downloading.

LittleBigPlanet: Marvel – Iron Man ($1.99)
LittleBigPlanet: Marvel – Thing ($1.99)
LittleBigPlanet: Marvel – Dare Devil ($1.99)
LittleBigPlanet: Marvel – Dr. Octopus ($1.99)
LittleBigPlanet: Marvel – Mystique ($1.99)
LittleBigPlanet: Marvel Costume Pack ($5.99)
LittleBigPlanet: Marvel Level Kit ($4.99)
ModNation Racers: Sweet Tooth Mod and Kart Bundle ($1.99)
MotoGP 09/10: GP Class Season 2010 Update (free)
Rock Band Add-Ons

"Bad Moon Rising" – Creedence Clearwater Revival ($1.99)
"Born On The Bayou" – Creedence Clearwater Revival ($1.99)
"Down On The Corner" – Creedence Clearwater Revival ($1.99)
"Fortunate Son (Original Version)" – Creedence Clearwater Revival ($1.99)
"Green River" – Creedence Clearwater Revival ($1.99)
"I Heard It Through The Grapevine" – Creedence Clearwater Revival ($1.99)
"Lookin' Out My Back Door" – Creedence Clearwater Revival ($1.99)
"Proud Mary" – Creedence Clearwater Revival ($1.99)
"Run Through The Jungle" – Creedence Clearwater Revival ($1.99)
"Travelin' Band" – Creedence Clearwater Revival ($1.99)
"Up Around The Bend" – Creedence Clearwater Revival ($1.99)
"Who'll Stop The Rain" – Creedence Clearwater Revival ($1.99)
Creedence Clearwater Revival Pack 01 ($19.99) – Build your Rock Band library by purchasing this song game track pack: Creedence Clearwater Revival Pack 01. This pack includes "Bad Moon Rising", "Born On The Bayou", "Down On The Corner", "Fortunate Son (Original Version)", "Green River", "I Heard It Through The Grapevine", "Lookin' Out My Back Door", "Proud Mary", "Run Through The Jungle", "Travelin' Band", "Up Around The Bend", and "Who'll Stop The Train" by Creedence Clearwater Revival.

Rock Band Network Add-Ons

"1348″ by Umphrey's McGee ($1.99)
"Battles And Brotherhood" by 3 Inches of Blood ($1.99)
"Henchmen Ride" by Testament ($1.99)
"So Says I" by The Shins ($1.99)
"The Funeral" by Band of Horses ($1.99)

Skate 3 – Danny Way's Hawaiian Dream ($6.99)
Trinity Universe – Gift for Everyone Pack ($0.99)
Trinity Universe – Low Income Prinny Pack (free)
Trinity Universe – Middle Ability Pack ($1.99)
Trinity Universe – Mid-Level Armor Pack ($1.99)
Trinity Universe – Miyu's Managraphic Pack (free)
Trinity Universe – My Secret Savings Pack ($1.99)
Trinity Universe – Phantom Dungeon Rumors Pack (free)
Trinity Universe – Technician's Pack ($1.99)
Game Videos
Dragon Age: Origins Leliana's Song Trailer
Naughty Bear Trailer
Pulse 7/6 Edition
PixelJunk Racers 2nd Lap Trailer
PixelJunk Shooter 2 Trailer
Shank E3: Animatic Trailer
Skate 3 Maloof Money Cup Trailer
Star Wars: The Force Unleashed II E3 Trailer
Transformers: War For Cybertron Multiplayer Trailer
Avatars
Darkstalkers – Felicia Avatar ($0.49)
Darkstalkers – Morrigan Avatar ($0.49)
Flower Avatars (x4) ($0.49)
Flower Avatar Bundle ($1.49)
Themes and Wallpaper