Level-5 CEO hints at western release for Ni No Kuni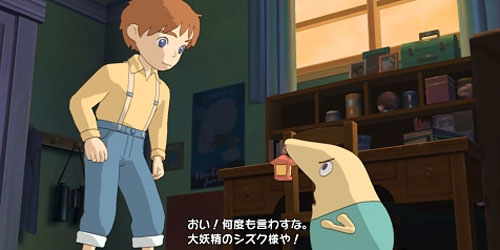 Two weeks ago, Level-5 announced a PlayStation 3 game to accompany their upcoming Nintendo DS title, Ni No Kuni. The PlayStation 3 version, while featuring changes in comparison to the DS version, brings the world Studio Ghibli has created to controllable life – as can clearly be told by the above screenshot.
During a new interview with Nintendo Power, Level-5 CEO Akihiro Hino told the magazine: "I don't think it will be that long before you're able to play these games." Of course, he was speaking in regards to Nintendo DS's Ni No Kuni and Inazuma Eleven, and not the PS3's Ni No Kuni. Considering the information is coming from a Nintendo-only magazine, don't expect him to make any direct references to the PS3 version.
Back in January, Level-5 opened a new Tokyo office meant for "overseas business". That could hint at closer or even simultaneous releases for their localized games so releases across different territories won't have as big a gap as, say, White Knight Chronicles did – which released in Japan in late 2008 and in the US in early 2010.
Thanks, JoyStiq.