US PlayStation Store Update: June 8, 2010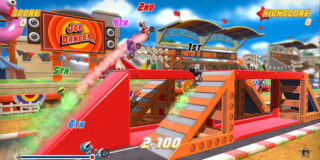 This week's PlayStation Store update is in. Hello Games' Joe Danger has finally arrived, an Excite Bike/Trials sort of title that has received an impressive amount of positive feedback within the past few days. Death Track: Resurrection is also a go, 1C Company's racing game with guns.
There are some Heavy Rain sackboys up for download to in LittleBigPlanet. I wonder if Jayden can use ARI.
The full update is below.
Price Updates
Dissidia Final Fantasy Permanent Price Drop (now $19.99, original price $39.99)
Greed Corp. – Sale (now $5.99, original price $9.99)
Manhunt 2 Permanent Price Drop (now $14.99, original price $29.99)
Sam And Max – The Devil's Playhouse – Full Season Service Entitlement – Sale (now $24.99, original price $34.99)
Stand O' Food Permanent Price Drop (now $2.99, original price $4.99)
The Warriors Permanent Price Drop (now $14.99, original price $19.99)
Qore
Qore Episode 25: June 2010 ($2.99) – Episode 25 of Qore: Presented by the PlayStation®Network returns to action with Lara Croft and the Guardian of Light, talks sequels with 2D gaming gurus Q Games, rocks out with Green Day Rock Band, and joins Perseus in the Clash of the Titans.
Qore Annual Subscription: June 2010 ($24.99)
PSone Classics
Downloadable Games
Death Track: Resurrection ($14.99)
Joe Danger ($14.99)
Sam & Max Episode 1: The Penal Zone ($8.99)
Voodoo Dice ($9.99)
Game Demos

Add-Ons
Burn Zombie Burn In Space DLC ($2.99)
Death Track: Resurrection – Hari 108 ($0.99)
DJ Hero: 2 Mix! (free)
Guitar Hero 5 Add-Ons

"God Save The Queen (GH Version)" by Steve Ouimette (free)
"Il Canto Degli Italiani (GH Version)" by Steve Ouimette (free)
"La Marseillaise (GH Version)" by Steve Ouimette (free)
"Lied Der Deutschen (GH Version)" by Steve Ouimette (free)
"Marcha Real (GH Version)" by Steve Ouimette (free)
"The Star-Spangled Banner (GH Version)" by Steve Ouimette (free)
The National Anthem Pack Pack (free) – Downloadable Track Pack featuring "God Save The Queen (GH Version)," "Il Canto Degli Italiani (GH Version)," "La Marseillaise (GH Version)," "Lied Der Deutschen (GH Version)," "March Real (GH Version)," and "The Star-Spangled Banner (GH Version)" by Steve Ouimette. Please Note: Many songs are available both as singles and as part of a Track Pack, so please carefully consider your purchases before downloading.

Hustle Kings – Snooker Game Pack ($2.99)
LittleBigPlanet: Heavy Rain – Ethan Costume ($1.99)
LittleBigPlanet: Heavy Rain – Jayden Costume ($1.99)
LittleBigPlanet: Heavy Rain – Madison Costume ($1.99)
LittleBigPlanet: Heavy Rain – Origami Costume ($1.99)
LittleBigPlanet: Heavy Rain – Shelby Costume ($1.99)
LittleBigPlanet: Heavy Rain Costume Pack ($5.99)
ModNation Racers: Vamp Mod ($0.99)
ModNation Racers: Vamp's Kart ($0.99)
ModNation Racers: Vamp Mod and Vamp's Kart Bundle ($1.75)
Record Of Agarest War: Item Pack 17: Death Kit ($2.49)
Record Of Agarest War: Item Pack 18: Virgin Kit ($2.49)
Record Of Agarest War: Points Pack 7: Additional TP ($6.99)
Rock Band Add-Ons

"Cherry Waves" – Deftones ($1.99)
"Hole In The Earth" – Deftones ($1.99)
"Minerva" – Deftones ($1.99)
Deftones Pack 01 ($5.49) – Build your Rock Band library by purchasing this song game track pack: Deftones Pack 01. This pack includes "Cherry Waves", "Hole In The Earth", and "Minerva" by Deftones.
"The Great Escape" – Boys Like Girls ($1.99)
"Rock Ready" – Crown Of Thorns ($1.99)

Rock Band Network Add-Ons

"Collapsing" by Demon Hunter ($1.99)
"Don't Let Me Down (Slowly)" by The Main Drag ($1.99)
"Heimdalsgate Like A Promethean Curse" by of Montreal ($1.99)
"Mechanical Love" by In This Moment ($1.99)
"The Mob Goes Wild" by Clutch ($1.99)

Skate 3 – Maloof Money Cup 2010 NYC Pack ($4.99)
Smash Cars: Virus Run ($2.99)
Super Street Fighter IV: Super Challengers Pack 2 ($3.99)
Tiger Woods (x50) ($0.99 – $9.99)
Music
Official ModNation Racers Soundtrack ($7.99)
Game Videos
Dante's Inferno – Trials Of St. Lucia Walkthrough Trailer
Joe Danger Trailer
Red Dead Redemption – Official Launch Trailer
Star Wars: The Force Unleashed II – Announce Trailer
Avatars
Themes and Wallpaper
ACR Premium Theme ($1.99)
Wakeboarding HD Dynamic Theme ($2.99)