US PlayStation Store Update: June 28, 2010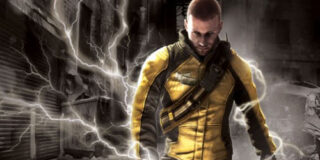 This week's PlayStation Store content is in. Most notable this week are the several nice additions for PlayStation Plus subscribers, including free games, a one hour trial of inFAMOUS and many other content. Sony's also released the full game inFAMOUS on the Store for $29.99 (available to everyone). Now would be a good time to play it if you haven't already.
Also on the list, a LEGO Harry Potter demo, some Trinity Universe content, and more.
The full list of content can be found below.
Price Updates
FIFA Soccer 10: FIFA Ultimate Team – Sale (now $2.49, original price $4.99)
LocoRoco: Midnight Carnival – Permanent Price Change (now $7.49, original price $14.99)
Don't Let Me Down (Slowly) by The Main Drag – Permanent Price Change (now $0.99, original price $1.99)
Super Stacker – Permanent Price Change (now $6.99, original price $9.99)
Trine – Permanent Price Change (now $9.99, original price $14.99)
Section 8 – Sale (now $14.99, original price $29.99)
LittleBigPlanet Saktue of Liberty Costume – Free (1 MB) **Limited Time Only
PlayStation Plus
inFAMOUS Full Game Trial (Free and Exclusive to PlayStation Plus subscribers)
WipEout HD (Free to PlayStation Plus subscribers)
Rally Cross (Free to PlayStation Plus subscribers)
Age of Zombies (Free to PlayStation Plus subscribers)
Warhawk Fallen Star Pack (Free to PlayStation Plus subscribers)
Collision Theme (Free and Exclusive to PlayStation Plus subscribers)
Fat Princess: Pink Princess Avatar (Free to PlayStation Plus subscribers)
Fat Princess: Blue Princess Avatar (Free to PlayStation Plus subscribers)
Fat Princess: Fat Roles Expansion Pack (PlayStation Plus price $3.99, original price $4.99)
Midway PlayStation Plus Sale

Gauntlet II (PlayStation Plus price $2.50, original price $4.99)
Mortal Kombat II (PlayStation Plus price $2.50, original price $4.99)
Rampage (PlayStation Plus price $2.50, original price $4.99)
Rampart (PlayStation Plus price $2.50, original price $4.99)

TikGames/Creat Studios PlayStation Plus Sale

Cuboid (PlayStation Plus price $7.99, original price $9.99)
Cuboid Booster Pack (PlayStation Plus price FREE, original price $2.99)
Cuboid Bundle Pack (PlayStation Plus price FREE, original price $4.99)
Cuboid Level Editor (PlayStation Plus price FREE, original price $3.99)
Hamsterball (PlayStation Plus price $7.99, original price $9.99)
Interpol: The Trail of Dr. Chaos (PlayStation Plus price $7.99, original price $9.99)
Magic Orbz (PlayStation Plus price $7.99, original price $9.99)
Magic Orbz Booster Pack (PlayStation Plus price FREE, original price $2.99)
Magic Orbz Jungle Pack (PlayStation Plus price FREE, original price $2.99)
Magic Orbz Winter Pack (PlayStation Plus price FREE, original price $2.99)
Mahjong Tales: Ancient Wisdom (PlayStation Plus price $7.99, original price $9.99)
Mahjong Tales: Ancient Wisdom Booster Pack (PlayStation Plus price FREE, original price $4.99)
Smash Cars (PlayStation Plus price $11.99, original price $14.99)
Smash Cars: Virus Run (PlayStation Plus price FREE, original price $2.99)
Wakeboarding HD (PlayStation Plus price $11.99, original price $14.99)
Downloadable Games
Game Demos

LEGO Harry Potter Years 1-4 Demo
Add-Ons
DJ Hero: Dance Party Mix Pack ($7.99)
Fat Princess: Fat Roles ($4.99)
Guitar Hero 5 Add-Ons

"Fireflies" – Owl City ($1.99)
"Just Dance" – Lady Gaga ($1.99)
"This Love" – Maroon 5 ($1.99)
Pop Track Pack 01 ($5.49) – Downloadable Track Pack featuring "Fireflies" by Owl City, "Just Dance" by Lady Gaga, and "This Love" by Maroon 5. Please Note: Many songs are available both as singles and as part of a Track Pack, so please carefully consider your purchases before downloading.

PAIN: Sergeant Jay Character ($0.99)
Rock Band Add-Ons

"Burn It To The Ground" – Nickelback ($1.99)
"Figured You Out" – Nickelback ($1.99)
"Never Again" – Nickelback ($1.99)
"Photograph" – Nickelback ($1.99)
"Rockstar" – Nickelback ($1.99)
"This Afternoon" – Nickelback ($1.99)
Nickelback Pack 01 ($9.99) – Build your Rock Band library by purchasing this song game track pack: Nickelback Pack 01. This pack includes "Burn It To The Ground", "Figured You Out", "Never Again", "Photograph", "Rockstar", and "This Afternoon" by Nickelback.

Rock Band Network Add-Ons

"American Dream" by Silverstein ($1.99)
"Battle Royale" by The Word Alive ($0.99)
"Kick Some Ass '09″ by Stroke 9 ($1.99)
"Sick" by Bif Naked ($1.99)
"Undone" by All That Remains ($1.99)

Super Street Fighter IV: Super Classic Costume Pack ($3.99)
Tiger Woods PGA Tour 11: Waialae CC ($9.99)
Trinity Universe – Healing Idol Pack ($0.99)
Trinity Universe – Kanata's Adventure Pack (free)
Trinity Universe – Monsters Souls Pack (free)
Trinity Universe – Their Voices Pack ($1.99)
Trinity Universe – Universal Beauty Pack ($1.99)
PlayStation Home
PlayStation Home Starter Pack ($4.99)
Game Videos
Backbreaker Trailer
MAG Interdiction Mission Pack Trailer
ModNation Racers PSP Launch Trailer
Singularity: Cause And Affect Trailer
Voodoo Dice Launch Trailer
Avatars
Final Fight: Double Impact Poison Avatar ($0.49)
Mega Man 10 Avatar ($0.49)
Super Street Fighter IV Avatars (x5) ($0.49)
Themes and Wallpaper
Fat Princess Fat Roles Wallpaper (free)
ModNation Racers Dynamic Theme ($2.99)
Percy Jackson Theme (US Only) ($1.99)
Terran 3020 Premium Theme ($1.99)
Terran Marines Premium Theme ($1.99)
Trinity Universe – Theme 01: Kanata ($1.99)
Trinity Universe – Theme 01: Tsubaki ($1.99)
Trinity Universe – Theme 01: Rizelea ($1.99)
Trinity Universe – Theme 01: Lucius ($1.99)