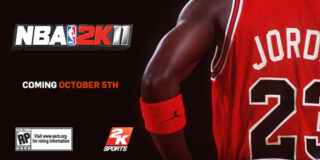 It's happening. After recent rumors suggesting Michael Jordan as the cover athlete of 2K Sports' upcoming NBA 2K11, it's been confirmed today that the legend is back.
"We've made a lot of progress over the past 10 years, but we know we have the best NBA video game ever made here," 2K Sports VP of Marketing, Jason Argent, told CNBC. "So we thought to ourselves how can we embody that and there was only one person on that list who we wanted to have and that was Michael Jordan. Actually getting this done is the most ridiculous win of all-time."
Jordan's last video game appearance was back in 2004. Jordan's manager, Estee Portnoy says that after "hearing that there was demand from the gamers to have him in the game and this came along and made a lot of sense."
Jordan has his own thoughts on the subject.
"It's an honor to be featured on the cover of NBA 2K11," Jordan said, in a statement. "I have no doubt that NBA 2K11 will be a big hit with gamers and basketball fans alike. I'm looking forward to getting back out on the court, virtually."
NBA 2K11 launches on PlayStation 3 and Xbox 360 on October 5, 2010.