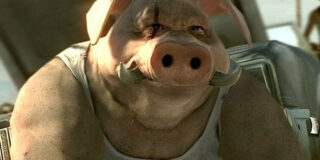 Update: Ubisoft has given us the old "we do not comment on rumors" response. Looks like the validity of this remains a mystery until some sort of confirmation is issued.
Original: Michel Ancel, a video game designer at Ubisoft and the creator of Rayman and Beyond Good and Evil, has reportedly quit his job at Ubisoft Montpellier. Another individual, who's identity remains hidden but is said to be a "star developer", has been said to quit alongside Ancel in order for the two to found a new studio.
The news comes from French gaming site Woot Gaming, who say Ancel quite due to issues concerning Beyond Good & Evil 2's development progression. The site says that there's talk of the sequel hitting the ol' trash bin.
The report claims that Ancel did not quit the company Ubisoft, just their development studio in Montpellier.
Take this all as a rumor for now, however, the site says official confirmation should arrive in the coming weeks – probably around E3. We'll contact Ubisoft for a statement. If we don't get anything back, we'll know around E3.
Thanks, NeoGAF.