Sony announces a plethora of new Greatest Hits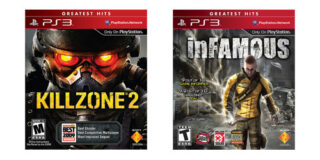 Following up on the Wal-Mart ad from Tuesday night, Sony Computer Entertainment America has officially announced a plethora of new titles entering the Greatest Hits category, which sells you some of the best games on PlayStation 3 at half the price.
There's more coming than we've previously thought. Rolling out over the next few weeks, the latest additions to the Greatest Hits library include:
inFAMOUS (Sony Computer Entertainment)
God of War®: Collection (Sony Computer Entertainment)
Killzone®2 (Sony Computer Entertainment)
LittleBigPlanet™ Game of the Year (Sony Computer Entertainment)
Resistance 2™ (Sony Computer Entertainment)
Dead Space™ (Electronic Arts)
Fight Night Round 4 (EA Sports)
Resident Evil® 5 (Capcom)
Soulcalibur® IV (NAMCO BANDAI Games)
UFC® 2009 Undisputed (THQ)
"With a growing install base of more than 33 million PS3 systems worldwide, we're seeing continued momentum on the PS3 platform," said Scott A. Steinberg, vice president, product marketing, SCEA. "Our 'Greatest Hits' library is expanding faster than ever, and the quality of these titles is just phenomenal. From the start, we've been committed to delivering huge value to our consumers and we will continue to do so for the PS3 platform in 2010 and beyond."
Look for these new red boxes on store shelves soon.