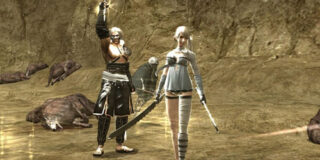 If you're looking to buy Square Enix's action RPG Nier or traditional RPG Final Fantasy XIII, you may want to hold off until early May.
Starting May 4 and ending May 10, K-Mart will be running a promotion for the two Square Enix titles selling them at a heavy discount.
During that time period, the PlayStation 3 and Xbox 360 versions of Nier can be purchased for $44.99 ($15 off original price) and Final Fantasy XIII can be purchased for $29.99 ($30 off original price).
Sounds like a damn good deal to me.
Square Enix Spotlight: Nier and FFXIII Special Offer! [K-Mart]