Atelier Totori screenshots reveal two new characters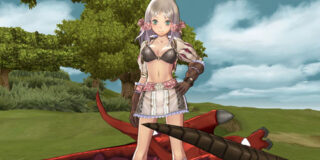 Gust has sent out forty brand new screenshots of Atelier Totori: Alchemist of Arland 2 this afternoon, and have revealed two brand new playable characters in the process.
Melvia, the underdressed female you see above this post, is an 18-year-old adventurer from Totori's town. A good adventurer, she has great abilities. She's not the serious type, always tending to joke around in serious situations.
Mark is a 22-year-old scientist. He's a bright man who can make heavy modifications to ruin-discovered machines. He can be very social. His dream is that all people will be able to naturally use machines one day.
There are also some shots of the game's battle system and other doo-dads in there. Check out the screenshots at the gallery.
Thanks go out to Andriasang for the character descriptions.