US PlayStation Store: March 25, 2010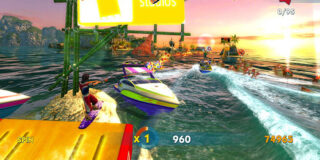 This week's PlayStation Store update is full of downloadable goodies. A plethora of new paid content is available on the store, including Wakeboarding HD, Hamsterball, and Section 8. For your sense of nostalgia, classic Sonic the Hedgehog costumes are available to download for use in LittleBigPlanet, as well.
Also on the list: Heavy Rain avatars. Wonder when we'll see some third-party characters up for online representation.
Check out the full update after the break.
Downloadable Games
Anarchy: Rush Hour ($7.99)
Blue Toad Murder Files Episode 1 ($7.49)
Blue Toad Murder Files Episode 1-3 Bundle ($14.99)
Hamsterball  ($9.99)
Section 8 ($29.99)
Wakeboarding HD ($14.99)
PSone Classics
Add-Ons
Blue Toad Murder Files Episode 2 ($7.49)
Blue Toad Murder Files Episode 3 ($7.49)
DJ Hero Jay Z Vs. Eminem Pack ($7.99)
Guitar Hero 5 Add-Ons

"Girls, Girls, Girls" by Motley Crue ($1.99)
"Sister Christian" by Night Ranger ($1.99)
"We Got The Beat" by The Go-Go's" ($1.99)
80s Track Pack ($5.49) – Downloadable Track Pack featuring "Girls, Girls, Girls" by Motley Crue, "We Got The Beat" by The Go-Go's, and "Sister Christian" by Night Ranger. Please Note: Many songs are available both as singles and as part of a Track Pack, so please carefully consider your purchases before downloading.

High Stakes Poker Connelly Card Club ($2.99)
Hustle Kings Time Savers Pack ($1.49)
LittleBigPlanet Sonic Costumes and Stickers Kit ($5.99)
LittleBigPlanet Sonic Costume, Tails Costume, Knuckles Costume, Dr. Eggman Costume, Werehog Costume ($1.99 each)
MAG Trooper Gear Pack (free)
Rock Band Add-Ons

"Am I Crazy"— Little Fish (free)
"Bang Bang"— Little Fish ($0.99)
"Darling Dear"— Little Fish ($0.99)
"Outer Space"— Ace Frehley ($1.99)
"All-American Girl"— Carrie Underwood ($1.99)
"Stop and Stare"— OneRepublic ($1.99)
"Blue Spark"— X ($1.99)
"The Hungry Wolf"— X ($1.99)
"I Must Not Think Bad Thoughts"— X ($1.99)
"Los Angeles"— X ($1.99)
X Pack 1 ($6.99) – Build your Rock Band library by purchasing this song game track pack: X Pack 01. This pack includes "Blue Spark," "The Hungry Wolf," "I Must Not Think Bad Thoughts," and "Los Angeles" by X.

ZEN Pinball Earth Defense Table ($2.49)
Avatars
Heavy Rain Avatars (x14) ($0.49 each)
Game Videos
The Tester Episode 6
Blue Toad murder Files Video 1
Gran Turismo 5 Night Racing Trailer
Groovin' Blocks Game Trailer
Major League Baseball 2K10 Sizzle Trailer
Medal Of Honor Extended Release Trailer
Resonance of Fate Announcement Trailer
Section 8 Cinematic Trailer
Section 8 Gameplay Trailer
Prince of Persia: The Forgotten Sands Gameplay Reveal Trailer
Yakuza 3 Memories Trailer
Media
Themes and Wallpaper
AK Premium Theme ($1.99)
Bare Elements Theme ($1.99)
Groovin' Blocks Theme (free)
Heavy Rain Forest ARI Dynamic Theme ($2.99)
Mega Man 10 Dynamic Theme 1 ($2.99)
Miss Kawasaki Hook-Ups Theme ($1.99)
Nurse Girl Brandi Hook-Ups Theme ($1.99)
Section 8 Theme (free)