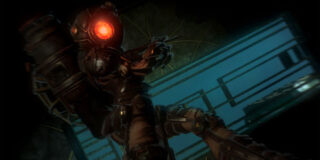 BioShock 2 releases just a week from today on February 9th, so 2K Games is debuting the game's official launch trailer on NBC's Late Night with Jimmy Fallon. Although, you'll have to stay up until around 12:15 AM (EST) before you'll get a chance to see it.
Luckily, the three-minute and fifteen second trailer will debut during the first commercial break.
"Debuting during the first commercial block of NBC's Late Night with Jimmy Fallon exclusively in North America, the launch trailer is a realization of the elements that BioShock 2 fans have been clamoring for. Breathtaking action set against the backdrop of a decaying underwater Utopia provides players with the slice of Rapture that awaits them next week, all presented in a style that is distinctively representative of the BioShock universe."
Forget the trailer. Just give me the damn game!