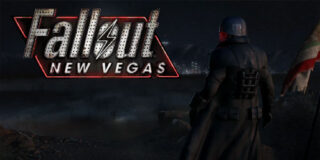 Bethesda Softworks has announced today that Fallout: New Vegas is destined for a PlayStation 3, Xbox 360 and PC release this Fall. The post-apocalyptic follow-up is in development at Obsidian Entertainment, the developers behind Alpha Protocol.
The debut teaser trailer for New Vegas was also released today, sharing a similar style to Fallout 3's original teaser trailer. Even the ending is similar. It's not just war then, is it?
You Must Be At Least 17 To Watch The Following Content.
BETHESDA SOFTWORKS ANNOUNCES FALLOUT®: NEW VEGAS™ SET FOR FALL 2010 RELEASE
Official Teaser Trailer for Fallout: New Vegas Revealed Today

February 4, 2010 (Rockville, MD) – Bethesda Softworks®, a ZeniMax® Media company, today announced that Fallout®: New Vegas™, the next chapter in the critically-acclaimed Fallout franchise, will be available in Fall 2010. The game is currently in development at Obsidian Entertainment for the Xbox 360® video game and entertainment system from Microsoft, the PLAYSTATION®3 computer entertainment system, and Games for Windows. The first trailer, which provides new insight into the game, is now available at fallout.bethsoft.com.

Fallout: New Vegas, the follow-up to Fallout® 3 – the 2008 Game of the Year – brings this beloved franchise to a location only Fallout could do justice: Vegas. Fallout: New Vegas takes all the action, humor, and post-apocalyptic grime and grit of this legendary series, and raises the stakes.

To view the Fallout: New Vegas trailer and for more information on the game, please visit the official Fallout site: fallout.bethsoft.com. Fallout: New Vegas will be featured in magazine cover stories around the world in the month of February. Check the official site for updated details.