US PlayStation Store Update: January 28, 2010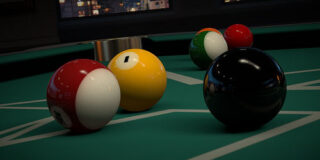 This week's PlayStation Store update has landed. We see three new downloadable titles including Hustle Kings and Thexder Neo as well as a demo for Thexder Neo, Uncharted 2 and Vancouver 2010. In the add-on section, we see Assassin's Creed II expand with the 'Battle of Forli' and more.
Read on for the update.
PSone Classics
Extreme Pinball ($5.99)
Hi-Octane:The Track Fights Back ($5.99)
Downloadable Games

Assault Heroes ($9.99)
Hustle Kings ($9.99)
THEXDER NEO ($9.99)
Demos

THEXDER NEO Demo
UNCHARTED 2: Among Thieves Single Player Demo
Vancouver Olympic Winter Games Demo
Add-Ons
Assassin's Creed II Sequence 12: Battle of Forli ($3.99)
Guitar Hero 5 Add-Ons

"Travelin' Band" by Creedence Clearwater Revival ($1.99)
"Proud Mary" by Creedence Clearwater Revival ($1.99)
"Bad Moon Rising" by Creedence Clearwater Revival ($1.99)
Creedence Clearwater Revival Track Pack ($5.49) – Downloadable Track Pack featuring "Bad Moon Rising", "Travelin' Band", and "Proud Mary" by CCR (Creedence Clearwater Revival). Please Note: Many songs are available both as singles and as part of a Track Pack, so please carefully consider your purchases before downloading.

LittleBigPlanet GroundHog Day Costume (free)
PAIN Hilde Günnagröpe Character ($0.99)
Rock Band Add-Ons

"Bulls on Parade"— Rage Against the Machine ($1.99)
"Hair of the Dog"— Nazareth ($1.99)
"Killed by Death '08″— Motörhead ($1.99)
"Levitate"— I Mother Earth ($1.99)
"Master of the Universe"— Hawkwind ($1.99)
"Transmaniacon MC"— Blue Öyster Cult ($1.99)
"Godzilla"— Blue Öyster Cult ($1.99)

UNCHARTED 2: Among Thieves PlayStation Heroes Pack ($4.99)
Game Videos
Hustle Kings Launch Trailer
Madden NFL Arcade Accolades Trailer
Madden NFL Arcade Launch Trailer
MAG: How To – Acquisition Mode
MAG: How To – Domination Mode
MAG: How To – Sabotage Mode
MAG: How To – Suppression Mode
Smash Cars Trailer 2
White Knight Chronicles IE Character Customization Video
White Knight Chronicles IE The Online Experience
Themes
Devil Girl Hook-Ups Theme ($1.99)
Nurse Girl Mika Hook-Ups Theme ($1.99)