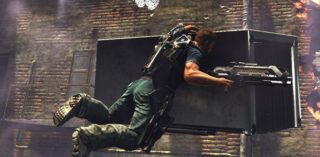 Namco Bandai have officially announced Inversion today, a third-person shooter set to "revolutionize" the genre via gravity powered weapons and a zero gravity playing field. We told you about this one over the weekend.
The game is set in the near future, during an alien invasion by the an enemy known as the Lutadore, causing sections of the city to enter a zero-gravity zone or vector change. As hotheaded 28-year-old cop Davis Russel or his neighbor Leo Delgado will take on the enemy in the zero-gravity twisted streets searching for Davis' lost child.
Inversion promises zero-gravity environments, gravity-wielding weapons like the Grappler allowing players to lift heavy objects for defense, vector changes, and a destructible cover system. The game hits PlayStation 3 and Xbox 360 in 2010.
Check out the first screenshots at the gallery.
NAMCO BANDAI GAMES ANNOUNCES INVERSION™ FOR THE XBOX 360® AND PLAYSTATION®3 SYSTEM
Innovative Gravity Wielding Combat Revolutionizes Third-Person Shooter Genre

SANTA CLARA, Calif., (Oct. 20, 2009) – Leading video games publisher and developer NAMCO BANDAI Games America Inc., today announced INVERSION™ for the Xbox 360® video game and entertainment system from Microsoft and the PlayStation®3 computer entertainment system. Developed by Saber Interactive, INVERSION takes players on a whirlwind journey complete with nonstop firefights and a suspense-filled storyline. Packed to the brim with action, INVERSION also introduces revolutionary gravity-wielding combat, zero gravity environments, vector changes, and a unique destructible cover system. INVERSION is planned for release in 2010.

INVERSION is a third-person co-op shooter that combines hard-hitting, adrenaline-pumping action with a revolutionary gravity manipulation engine. Featuring the Grappler weapon, players will be able to manipulate gravity for their own purposes. The Grappler can be used in countless combat situations by maneuvering massive objects as shields or projectiles, and moving camped enemies out of concealed cover so they can be blasted away. The Grappler is also a key tool for tactical situations and puzzle solving as players can lift, move, or create cover objects at their whim. The awesome power of gravity is right at players' fingertips. Additionally, INVERSION is one of the first games to feature Havok Destruction which bestows INVERSION with massively destructible environments including an elaborate cover system.

Set in the near future, the tranquil peace enjoyed by mankind shatters with an unforeseen invasion by an unknown enemy called the Lutadore. Armed to the teeth with futuristic gravity-controlling weapons, the Lutadore easily overrun the city's defenses. Unbeknownst to all, mysterious anomalies have surfaced in conjunction with the invasion. Random regions in the city have entered zero gravity or have suffered vector changes, throwing the world into topsy-turvy chaos. Assuming the role of Davis Russel, a hotheaded 28-year-old cop, or Leo Delgado, Davis' neighbor, players will embark on a journey through the disorienting war-ravaged, gravity twisted streets of their home town and beyond, to find Davis' missing child.

"INVERSION will turn the shooter genre upside down, literally," said Todd Thorson, director of marketing and public relations, NAMCO BANDAI Games America. "Saber Interactive's innovative gravity manipulation feature will blow away any preconceptions of what a contemporary shooter should be."

"Working with NAMCO BANDAI Games on a project of this caliber is a complete thrill," said Matthew Karch, CEO of Saber Interactive. "We are doing things in INVERSION that most people didn't think possible on the current generation of consoles. We can't wait to get INVERSION in the hands of gamers across the world."

"We are delighted to see Havok Destruction incorporated as an important gameplay element in INVERSION," said David O'Meara, Managing Director for Havok. "The talented team of developers and artists creating INVERSION has really embraced the Havok Destruction technology and we can't wait to see the final results."

For more information about Inversion, please visit www.namcobandaigames.com.