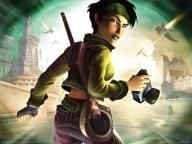 In the interview he confirms that Beyond Good & Evil 2 is currently in it's pre-production stages. Yes, Ubisoft is making a sequel to one of the best games of 2003, which received review scores in the high 90's to 100's from almost every major reviewer.
"We are already working on Beyond Good & Evil 2. For a year we have been in pre-production phase, conducting research work in a small committee. Although at the moment it is a preliminary step, and we still need Ubisoft to give us the go-ahead." Michael said.
He added "We want to make a direct continuation of the first delivery, with a wide variety of styles of play, a lot of emotions and the involvement of multiple characters."
We have a feeling this will be appearing at Ubisoft's Gamers' Day '08. Don't you?
[Michel Ancel confirms that Beyond Good & Evil 2 is in preproduction]