Detective Pikachu Returns – Nintendo Direct: September 14, 2023 trailer
Investigate cases while searching for your missing father.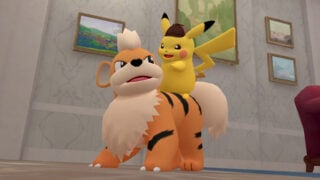 The Pokemon Company and developer Game Freak have released a new trailer for Detective Pikachu Returns as part of today's Nintendo Direct broadcast.
Get the latest details below.
This detective's got a second bolt of brilliance! In this cinematic adventure, Detective Pikachu and his partner Tim Goodman investigate various cases around Ryme City while searching for Harry, Tim's missing father. They'll also work with other Pokémon to broaden the scope of their investigations as they follow scents with Growlithe, smash rocks with Darmanitan and peer through walls with Luxray. Can Tim and Pikachu solve all the mysteries and find Tim's father? Find out when Detective Pikachu Returns launches!
Detective Pikachu Returns is due out for Switch on October 6.
Watch the trailer below.
Nintendo Direct: September 14, 2023
English
Japanese