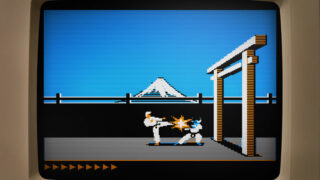 The Making of Karateka will launch for PlayStation 5, Xbox Series, PlayStation 4, Xbox One, and PC via Steam, Epic Games Store, and GOG on August 29 for $19.99, followed by Switch in September, developer Digital Eclipse announced.
Here is an overview of the game, via Digital Eclipse:
About

Prince of Persia creator Jordan Mechner was a college student when he created one of the biggest-selling games of 1984: Karateka. Now, in a new interactive documentary from Digital Eclipse, the story of how a teenager with an Apple II created one of the most groundbreaking, influential games of all time.

The Origin Story of a Legendary Game Creator

Discover how Karateka was made through an exhaustive archive of design documents, playable prototypes, and all-new video features. Like walking through a museum, you can explore the interactive timelines at your own pace.

Play the Acclaimed Originals

Enjoy pixel-perfect versions of the original Karateka games and a variety of never-before-seen early prototypes, with rich quality-of-life features like save anywhere, rewind, chapter select, and director's commentary.

Two Remastered Games

Karateka Remastered is an all-new version of the original game featuring cutting-room-floor content, commentary, achievements, and more. Deathbounce: Rebounded is a fast and frantic twin-stick shooter based on Jordan's unpublished prototype.

A Groundbreaking Masterpiece

Discover how Karateka became one of the first games to include cinematic scenes, a moving original soundtrack, rotoscoped animation, and a Hollywood-style love story, influencing the decades of games that followed.

The Gold Master Series

New from Digital Eclipse (Teenage Mutant Ninja Turtles: The Cowabunga Collection, Atari 50: The Anniversary Celebration), the Gold Master Series presents iconic games in an innovative "interactive documentary" format, putting the shared history of games and their creators into one comprehensive package.