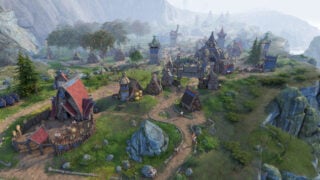 Strategy game The Settlers: New Allies is now available for PlayStation 4, Xbox One, Switch, and Luna, publisher Ubisoft and developer Ubisoft Blue Byte announced.
The standard edition is priced at $59.99, while the Deluxe Edition is priced at $79.99. The latter includes a "Royal Items Sets" skin pack, "Royal Title Set," "Three-Day Shard Booster," digital art book, digital soundtrack, and the "Explorer Pack."
The Settlers: New Allies first launched for PC via Epic Games Store and Ubisoft Store on February 17.
Here are the console version launch details, via Ubisoft:
Download Sizes (based on development environment, exact numbers may vary slightly)

PlayStation 4 – Approx. 12 gigabytes
Xbox – Approx. 10 gigabytes
Nintendo Switch – Approx. 6.7 gigabytes

Console Highlights

A comprehensive input scheme with no loss of functionality compared to traditional controls.
Full cross-play and cross-progression compatibility between all platforms, including PC!
Possibility to invite friends through Ubisoft Connect regardless of the platform they're using.

Content

The console version of The Settlers: New Allies launches with all game modes and content already available on PC.

13 Campaign Missions
13 Skirmish Maps for Multiplayer PvE and PvP
Hardcore Mode for players who are looking for an extra challenge in a solo or co-op PvE environment.

Nintendo Switch

On Nintendo Switch players will experience a few exceptions compared to the other versions of the game:

When disconnecting from a Multiplayer match, players on Nintendo Switch will not be able to reconnect.
Connecting Residences will not show a visual connection between the buildings (archways, etc.). This does not affect gameplay.
In four-versus-four Skirmish matches all players will be limited to 250 unites (down from 500).
And here is an overview of the game:
About

The Settlers: New Allies is a strategy game with an in-depth build-up experience and real-time strategic battles.

Key Features

Fully reimagined from the ground up, with stunning graphics and detailed animations.
Choose among three factions: the Elari, the Maru, and the Jorn. Each has a unique look, playstyle, and background story.
Experience a story-driven campaign set in the world of The Settlers, or go for the special Hardcore mode and its additional challenges.
Play online with up to eight players in thrilling skirmish battles against other players or AI for long-lasting fun.

Game Modes

Single-Player Campaign – As the Elari are forced to flee its homeland, they must settle on new and unknown territories. These new Settlers will have to face many challenges on their journey, from the raiding of ruthless bandits to the discovery of the new culture of these lands.
Hardcore Mode – As players will be able to play new scenarios, a wide range of modifiers and conditions will make the AI an even more challenging opponent. Adaptability is key in this new mode that will put the best players to the test, alone or with friends.
Skirmish – Players will be able to experience solo versus artificial intelligence, co-op verus artificial intelligence, or player-versus-player featuring up to eight players on the 12 maps available at launch.
Watch a new trailer below.
Consoles and Luna Launch Trailer