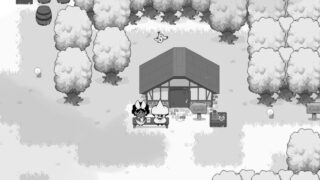 Turn-based time-loop RPG In Stars and Time will launch for PlayStation 5 and PlayStation 4 alongside its previously announced Switch and PC (Steam) versions when it launches later in 2023, publisher Armor Games Studios and developer insertdisc5 announced.
Here is an overview of the game, via Armor Games Studios:
About

In Stars and Time tells the story of Siffrin and their adventurer friends Mirabelle, Isabeau, Odile, and Bonnie—a found family fated to repeat the same two days over and over again as they fight to save the world from the tyrannical reign of an evil king. Thing is, only Siffrin knows that his party is stuck in a time-loop, and each fresh start takes an inevitable toll…
Key Features

Save the world through the power of Rock, Paper, Scissors in strategic turn-based RPG combat encounters.
Ignore the limits of time and space to fix your past mistakes by repeating the same two days over and over again.
Equip your memories of your friends to make your party stronger in combat.
Watch the fate of this world unfold as you escape the twists and turns of this endless (???) loop.
Eat samosas with your friends!
Get heckled by a cheeky ethereal being of infinite starlight.
Pray to a god for good luck in your travels. You're gonna need it.
Watch a new trailer below.
Future of Play Direct 2023 Trailer