Marvel's Spider-Man 2 map roughly twice the size of previous games, character switching detailed
Brooklyn and Queens join the fray.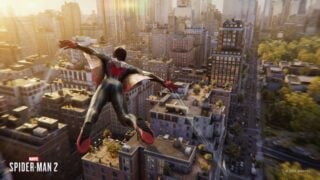 Marvel's Spider-Man 2's map will be roughly twice the size of previous games, Insomniac Games creative director Bryan Intihar told Famitsu.
"We've added Queens and Brooklyn this time, so roughly speaking the map size is about two times larger than the previous titles," Intihar said. "Since these two areas are somewhat smaller and residential, I think you'll find them different from Manhattan. We've prepared some unexpected situations we haven't done before, like a battle on the river between two of the cities, so I hope you'll look forward to them."
Game director Ryan Smith also confirmed that players will be able to freely switch between Peter Parker's Spider-Man and Miles Morales' Spider-Man when exploring the game's open-world, though there are some situations during story missions where you have to control a specific character.
"There are things that are exclusive to a specific character depending on the content, but we're also preparing content that allows you to play as whichever character you like," Smith said. "While they're both Spider-Man and have some things in common, Miles is speedier than Peter, and they each have their own quirks, so we hope you can choose your favorite character."
Marvel's Spider-Man 2 is due out for PlayStation 5 this fall.