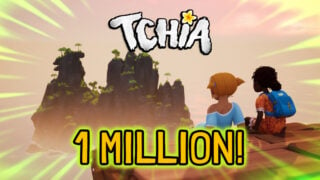 Open-world island adventure game Tchia was played by over one million users in its first six weeks of release, publisher Kepler Interactive and developer Awaceb announced.
Tchia launched for PlayStation 5, PlayStation 4, and PC via Epic Games Store on March 21. It is also available via PlayStation Plus Extra and Premium as a Game Catalog title.
The companies also announced that a physical "Oleti" edition of Tchia, distributed by Maximum Games, will launch for PlayStation 5 and PlayStation 4 on July 18. It includes a cosmetic pack inspired by Kepler Interactive's family of games, allowing players to customize their boat, ukulele, glider, and Tchia's outfit with items and looks inspired by Sifu, Scorn, Flintlock: The Siege of Dawn, and Cat Quest.
Here is a brief overview of the game, via Kepler Interactive:
Tchia puts players in the shoes of a young adventurer, Tchia, who ventures out to save her father from the grips of the archipelago's tyrannical ruler, Meavora. With an army of mindless minions to face down called the Maano, players will have to use their creativity as well as some mystical tools—including soul-jumping and a magical ukulele – to defeat the fabric creatures one and for all. Along the way, players will immerse themselves in a world inspired by the small island nation of New Caledonia, from its unique landmarks and biomes to the unique culture of the people who call it home. Praised by critics for its charming physics-based sandbox that begs to be explored and sense of childlike wonder, Tchia offers a breathtaking look at a part of the world many have never seen before.
Watch a new trailer below.
Accolades Trailer