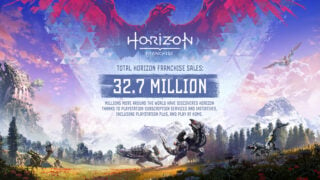 Horizon Forbidden West has sold through over 8.4 million units, and the Horizon franchise—which consists of Horizon Zero Dawn, Horizon Forbidden West, and Horizon Call of the Mountain—has sold through more than 32.7 million units, publisher Sony Interactive Entertainment and developer Guerrilla Games announced.
The companies added that "millions more around the world" have discovered the franchise through PlayStation subscriptions and services such as PlayStation Plus and Play at Home.
"Last of all, I'd like to share that we are so excited that Aloy's adventures will continue," Guerrilla Games studio director and studio art and animation director Jan-Bart van Beek said in a PlayStation Blog post. "Her latest mission takes her to the ruins of Los Angeles in Horizon Forbidden West: Burning Shores, and we can't wait for you to find out where she'll go next."
The Horizon news is part of a larger feature on Guerrilla Games' 20th anniversary. Read the full feature here and watch a celebration video below.
Guerrilla Games: Celebrating 20 Years