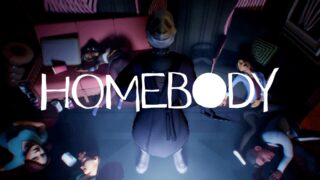 Survival horror puzzle game Homebody will launch for PlayStation 5, Xbox Series, PlayStation 4, Xbox One, Switch, and PC via Steam and Epic Games Store on June 1 for $19.99, publisher Rogue Games and developer Game Grumps announced.
Here is an overview of the game, via Rogue Games:
About

Homebody takes place in an eerie, foreboding yet nostalgic atmosphere set to a looping narrative that drives the story and gameplay, featuring mysteries woven throughout puzzles and the environment.

Homebody tells the tale of Emily and her college buddies, who gathered at a remote rental house to enjoy the Perseid meteor shower. As the group of friends works to rekindle bonds and friendships they once had, emotional wounds surface and social anxieties leave Emily feeling isolated and uncertain—until the power goes out and the group is overcome with a sense of relief. Once darkness sets in, a mysterious killer emerges, picking off the friends one by one.

Emily is trying to survive! Help her find a way out or she will be stuck in this nightmare forever. Solve puzzles, reconnect with friends, and don't give up on escaping the house!

Key Features

Retro Style – Enjoy a nostalgic art style reminiscent of classic 80s slasher films. Homebody features retro-but-modern gameplay that pulls players through a deep, strange and emotional experience.
Disturbing Getaway – Emily and her friends gather for the annual viewing of the Perseid meteor shower. But with relationships strained and anxieties high, what should be a relaxing weekend quickly goes awry, turning even darker as a mysterious killer picks them off.
Mysterious Storyline – After a bloody night, Emily wakes back up in the foyer. Realizing something is horribly wrong, Emily must find an escape, no matter what it takes. Learn more about Emily's relationships with choice-driven dialogue. Stealthily explore the house, moving quietly and hiding in closets to evade the killer's responsive AI. Death may be inevitable, but knowledge never dies. Use an in-game journal to track the clues and puzzle solutions, piecing together this mysterious event.
Puzzle Solving – Solving the constantly changing puzzles and challenges throughout the house requires strategy and creative thinking. Be careful, yet work quickly as time continues to tick and the unpredictable killer stalks the house looking for Emily and her friends.
Watch a new trailer below.
Release Date Trailer