Destiny 2 DLC 'The Final Shape' teaser trailer
Destiny Showcase set for August 22.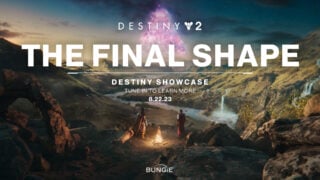 Bungie has released a teaser trailer for Destiny 2 downloadable content, which sees the return of fan-favorite hunter character Cayde-6 voiced by Nathan Fillion.
The developer will hots a Destiny Showcase event on August 22 where it will show off first details of what to expect in the upcoming downloadable content, which will mark the end of Destiny's "Light & Darkness Saga." Bungie developers will detail "The Final Shape" and provide a look forward into the future of Destiny 2.
"This is a momentous time for Bungie, as we continue our evolution into a multi-game studio," said Bungie CEO Pete Parsons in a press release. "More than thirty years of passion for creating incredible games has led us here and will push us into the future. We have a tremendous amount of work ahead, including continuing to build our Marathon development team and supporting Destiny for years to come. With our partners at [parent company] PlayStation, we're working to make our bold vision of Bungie as a true entertainment company a reality, while never forgetting our core mission: building worlds that inspire friendship."
Destiny 2 is available now for PlayStation 5, Xbox Series, PlayStation 4, Xbox One, and PC via Steam.
Watch the teaser trailer below.
DLC "The Final Shape" Teaser Trailer