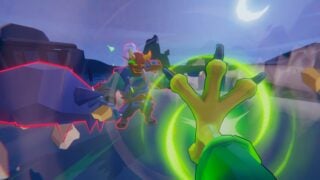 Gunfire Reborn will launch digitally for PlayStation 5 and PlayStation 4 on June 1 for $19.99, publisher 505 Games and developer Duoyi Network announced.
A physical edition will also be available for PlayStation 5 for $29.99. Pre-orders are available now at various retailers including Amazon and Play-Asia.
The roguelite-inspired cooperative first-person shooter first launched in Early Access for PC via Steam on May 22, 2020, followed by a full release on November 18, 2021. Xbox Series and Xbox One versions launched on October 27, 2022.
Here is an overview of the game, via 505 Games:
About

Gunfire Reborn is an adventure level-based game featuring first-person shooter, roguelite, and RPG elements. Players can control unique heroes—each with different abilities—as they adventure through random levels and pick up randomly dropped weapons. You can play Gunfire Reborn alone or cooperatively with up to three other players (four-player cooperative play).

Every level is random; each new restart is a brand-new experience. You will meet different heroes and experience new weapons, items, checkpoints, and unique combat rhythms across the game's many levels.

Key Features

First-person shooter, roguelite, and RPG combined gameplay. Construct diverse Builds through death cycles for a different experience.
Elaborate, yet randomized stage experience.
Over 100 different items and various weapons.
Many heroes and multiple game plus with different game mechanisms.
Unique art style.
A cooperative, level-based adventure.
Watch a new trailer below.
PlayStation 5 and PlayStation 4 Release Date Trailer