Diablo IV goes gold
Due out on June 6.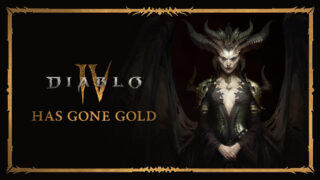 Diablo IV has gone gold, Blizzard Entertainment announced. That means development is complete and the game is ready for mass production.
"Going gold is a landmark milestone for the incredible Diablo IV team, who have all worked so hard crafting the next-generation installment of this iconic franchise. This is a concrete, meaningful step toward our June 6 launch," said Diablo general manager Rod Fergusson in a press release. "Whether players are veterans of the franchise or jumping in for the first time, we can't wait for everyone to experience the full game: taking part in the incredible storytelling, experimenting with character classes and builds, and exploring what the endgame and the dark world of Sanctuary has to offer."
Here is a brief overview of the game, via Blizzard Entertainment:
In Diablo IV, players can join the fight to save the dark and gothic world of Sanctuary from the Blessed Mother Lilith, battling demonic hordes on monsters along the way.

Play Your Way – Players have more options than ever before to create the character fantasy they want, choosing from five different character classes, a litany of cosmetics and skills, and whichever path they want to take through the world.
Open World Gameplay – Complete with a full story campaign, 120+ dungeons, dozens of side quests, world bosses, and tons of land to explore.
New Endgame Systems – Players can continue to grow and test their skills in the endgame through massive paragon boards, player-versus-player zones, Nightmare Dungeons and Helltides, and the Tree of Whispers.
Diablo IV is due out for PlayStation 5, Xbox Series, PlayStation 4, Xbox One, and PC via Battle.net on June 6.