Third-person co-op-only action adventure game Criminals Within announced for consoles, PC
From former Fable, Path of Exile, Black & White 2, and Chivalry II developers.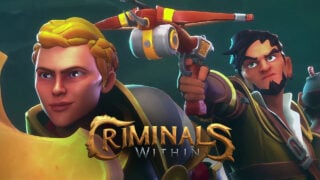 New Zealand-based studio Space Rock Games has announced Criminals Within, a third-person cooperative-only action adventure game set in a medieval fantasy kingdom and built on Unreal Engine 5. It will launch first for PC via Steam, followed by consoles at a later date. Release dates and specific consoles were not announced.
Space Rock Games is composed of industry veterans whose previous work includes games such as Fable, Path of Exile, Black & White 2, and Chivalry II.
"We are very excited to finally share the game we've been working on secretly for the past 12 months," said Space Rock Games managing director Zsombor Pirok in a press release. "Thanks to our wonderful team and our amazing investors—Hillfarrance and NZGCP—we get to create the ultimate co-op adventure we'd love to play ourselves."
Here is an overview of the game, via its Steam page:
About

Join forces with a friend and embark on an epic journey through a medieval fantasy land inhabited by powerful, de-evolved dragons. Unravel the mystery behind "The Wither," a deadly disease that is spreading throughout the kingdom, threatening its very existence.

Take on the role of Helena, a formidable royal guard with unmatched strength, and the roguish burglar Jarel, reluctantly roped into this quest. Explore treacherous caves and cursed jungles, seeking the lost prince Felix and working to bring an end to the ongoing conflict.

Criminals Within is developed by industry veterans who have previously worked on games such as Fable, Path of Exile, Black & White 2, Chivalry II, and many others.

Key Features

Experience asymmetric cooperative multiplayer, where each player takes on a unique role in the adventure.
Engage in skill-based combat, where strategic thinking and quick reflexes are the keys to victory.
Take on epic boss battles, facing off against formidable foes that will test your mettle.
Work together to solve cooperative puzzles, utilizing each character's strengths to overcome challenges.
Enjoy Disney-style comedy that will keep you laughing and engaged throughout your journey.
Customize your character's appearance with a variety of player cosmetics.
Watch the announcement trailer below. View the first screenshots at the gallery.
Announce Trailer