Story of Seasons: A Wonderful Life 'Welcome to Forgotten Valley' trailer
A place where you'll make new memories every season.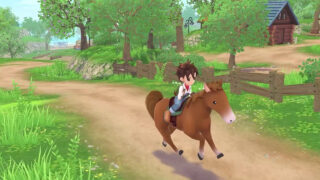 Publishers XSEED Games and Marvelous Europe have released a new trailer for Harvest Moon: A Wonderful Life remake Story of Seasons: A Wonderful Life introducing its setting, Forgotten Valley.
Here is a brief overview of the game, via XSEED Games:
Story of Seasons: A Wonderful Life revisits the tranquil community of Forgotten Valley where the protagonist fulfills their father's dream of running a farm. As the seasons go by, players will find their lifelong partner, raise a child together, and watch them grow up. Will their child carry on the family's farm legacy or find their calling somewhere else? Only time will tell…

An unforgettable tale of friendship, family, and farming blooms back to life for a new generation. Originally released for the Nintendo GameCube (and later the PlayStation 2), the Story of Seasons: A Wonderful Life remake introduces a plethora of new events, enhanced festivals, a cornucopia of never-before-seen crops, and even more recipes to cook. Returning fans will find plenty of exciting updates to Forgotten Valley, while newcomers to the series will discover the joys of cozy farm life and the extraordinary characters that make this series shine.
Story of Seasons: A Wonderful Life is due out for PlayStation 5, Xbox Series, Switch, and PC via Steam on June 27 in North America and Europe. It is available now for Switch in Japan. Read more about editions and pricing here.
Watch the trailer below.
Welcome to Forgotten Valley Trailer