Former Riot Games executives establish new studio The Believer Company to develop 'next-generation open-world game'
Founded by Micahel Chow, Steven Snow, and more.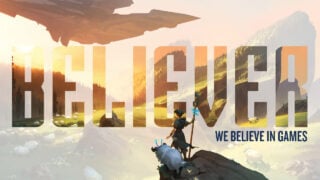 The Believer Company, a new studio headquartered in Los Angeles and led by former Riot Games executives, has announced its establishment with $55 million in Series A Funding from Bitkraft Ventures, Riot Games, 1Up Ventures, Don Thompson's Cleveland Avenue, Michael D. Eisner's Tornante Company, and other venture partners. It is currently developing a "next-generation open-world game" based on an original intellectual property, where player choices matter, and gameplay systems "bring players together rather than [push] them apart."
The stduio's leadership team includes:
Michael Chow as CEO – Former Riot Games vice president, former executive producer on League of LEgends: Wild Rift, and co-founder of Words with Friends developer Newtoy
Steven Snow as chief product officer – Founding member of Riot Games who built the studio's player-focused culture and former executive producer of League of Legends
Landon McDowell as chief technology officer – Formerly of Microsoft, Riot Games, Linden Lab
Jeremy Vanhoozer as chief corporate officer – Formerly of Bungie, Electronic Arts
Tim Hsu as chief operating officer – Formerly of Twitter, Riot Games
Shankar Gupta-Harrison as chief managing officer – Formerly of Riot Games, Dentsu X
Grace Park as director of operations – formerly of League of Legends: Wild Rift
Jeff Jew as vice president of design – Formerly of League of Legends, Legends of Runeterra
Find comments from The Believer Company's founders and supporters below.
Michael Chow, CEO – The Believer Company

"Players are the best audience to serve in the world. They're noble, smart, discerning, and infinitely inventive. We hold their investments of time, skill, and hard-earned money as sacred, and we will always put their needs first at every stage of Believer's journey. We look forward to growing our team with people as passionate as we are and we are actively seeking like-minded talent to believe with us.

"I couldn't be more excited to begin this journey with Steven. He's a loving, stalwart champion of players—at times viciously protective of their best interests. There's no better flag-bearer for what we're setting out to do."

Steven Snow, Chief Technology Officer – The Believer Company

"The last few years have brought forward some very exciting technologies. In our world, where the player is the focus, our goal is to bring select technologies into the development and gameplay spaces explicitly for the betterment of our players and the games they love. Bringing free-to-play to North America and Europe with League of Legends really changed the landscape of how games as a service could work. It is our privilege to have the opportunity to help shape the future responsibly. And we are excited to say 'no fucking thanks' to the technologies that won't make the game more fun."

Michael D. Eisner – Industry Leader

"Truly great content franchises are not built with a single media type—they need to resonate with their audience across games, film, television, collectibles, and real-world interactive experiences. The Believer Company gets that, and we at Tornante are excited to advise them as they bring their vision to life across every platform."

Moritz Baier-Lentz, Partner – Lightspeed Venture Partners

"The team already assembled at Believer stands ready to change the industry through an unyielding devotion to players. Forget preconceived notions about building, selling, and marketing franchises atop $70 entry fees and strictly authored, immovable stories. As a life-long player and 'believer' myself who's followed and admired the studio's founders' work for years, I know Michael, Snow, and their incredible team will make the next big thing by doing the right thing, at every turn. I'm inspired by their vision and honored to help make it possible."

Andrew Chen, General Partner – a16z

"When Michael, Snow, and their fellow founders at Believer speak about what's next for video games, the industry stops and listens Time and time again, through both innovative use of new technology and subversive design principles, they've defied convention and realized ambitions other developers hadn't dreamed yet. We're proud to join them at this moment in history and empower them to find the creativity in nascent technology."
Visit the company's official website here.