FANTASY LIFE i: The Girl Who Steals Time – LEVEL-5 Vision 2023 Tsuzumi teaser trailer, new details
Slow life RPG due out in 2023 worldwide.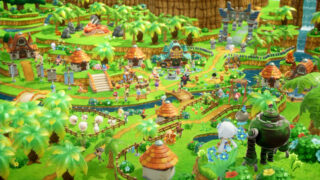 Publisher LEVEL-5 and developer LEVEL5 comcept released a new teaser trailer and new information for slow life RPG FANTASY LIFE i: The Girl Who Steals Time at its LEVEL-5 Vision 2023 Tsuzumi event.
Get the details below, via the official website.
About

Live as you please in the latest game in the Fantasy Life series!

Mysteria Island

A beautiful island located in the seas of Reveria. An island with a mystery that no one has been able to solve. A mysterious dragon that soars high in the skies above and a girl that controls time. What surprises might be waiting for you? There's only one way to find out!

Create Your Own Unique Avatar

Adjust your face, your hair, and so much more, however you wish! Create another identity and depart for Reveria!

Numerous Lives to Make Yours Brighter

The different lives in Fantasy Life function a little like different jobs. Each has its own characteristics and provides various ways to enjoy yourself.

Let's take a look at some of the lives you can live!

Paladin – Battle: Vanquish monsters with your blade and magic!
Woodcutter – Gather: Get the materials yourself!
Cook – Create: Create food and equipment!

Stay tuned for more lives to be revealed! It's up to you to choose what kind of life you'll live!

Shape the Island! Create Your Town!

Gather resources one thousand years in the past to restore the island in its present. Let's create an unique island just for you!

Housing – Change up your furniture for a breath of fresh air!
Town Planning – Build the town however you want!
Island Restoration – Adjust the terrain to your liking!

Adventure and live at a free and relaxed pace. Many new encounters await! Start your new life in a place that's entirely yours!
FANTASY LIFE i: The Girl Who Steals Time is due out for Switch in 2023 worldwide.
Watch a new trailer below. View a new set of screenshots at the gallery.
LEVEL-5 Vision 2023 Tsuzumi Teaser Trailer
English
Japanese
Screenshots