Bayonetta Origins: Cereza and the Lost Demon demo now available
Save data from the demo can be carried over to the full game.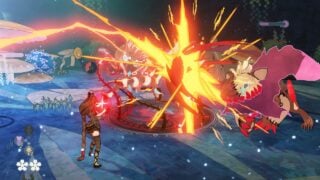 A demo for Bayonetta Origins: Cereza and the Lost Demon is now available for Switch via Nintendo eShop, publisher Nintendo and developer PlatinumGames announced. Save data from the demo can be transferred over to the full game when it launches.
Here is an overview of the game and demo, via Nintendo:
Demo

In this demo, you'll play as both Cereza and her demon companion Cheshire. Are you prepared to join Cereza on a journey into the Avalon Forest for a bewitching taste of the adventure yet to come?

This is your lucky day. Or unlucky day, depending on how you play your cards, for the Avalon Forest is just as beautiful as it is beastly, and it has an appetite for wandering witches. In the Nintendo eShop demo, you can try out the early chapters of the Bayonetta Origins: Cereza and the Lost Demon game. As a bonus, save data will transfer over to the full version of the game, when purchased.

Game

Long before the witchiest witch on Nintendo Switch would do any moon flying or stiletto lunges—or even became known as Bayonetta!—this trainee of the dark arts threw caution to the wind and ventured into the Avalon Forest. Any good story has a lesson about teamwork, so in this tale, Cereza and Cheshire coordinate their efforts to fight faeries, adventure and solve puzzles. You'll use the left side of the controller to move Cereza and bind enemies with her magic. And with the right side of the controller, you can move Cheshire to slash and chomp foes.

With the game's enchanting, storybook-inspired visuals, each area looks like it has been painted carefully by hand. Be sure to stop and smell the roses in this whimsical world—you may find magical objects that will assist you. Just be careful your curiosity doesn't lead to an untimely demise. Cereza may be young, but with your wisdom and Cheshire's steadfast aid, you may yet persevere in this perilous fable.

The game also features accessibility options, such as reducing damage or automating some controls, that can help anyone (newcomers and Bayonetta fans alike) enjoy the game.
Bayonetta Origins: Cereza and the Lost Demon is due out for Switch on March 17.
Watch a new set of trailers below.
Story Trailer
English
Japanese
Guide to the Avalon Forest
Japanese