Atlas Fallen 'Rise from Dust' gameplay reveal trailer
Fantasy action RPG due out on May 16.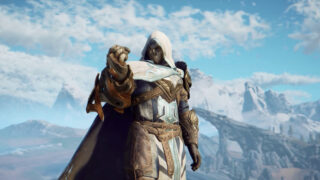 Publisher Focus Entertainment and developer Deck13 Interactive have released the gameplay reveal trailer for fantasy action RPG Atlas Fallen, dubbed "Rise from Dust."
Here is an overview of the game, via Focus Entertainment:
Atlas Fallen is the epic fantasy action–RPG from Focus Entertainment's studio Deck13 Interactive. Get a feel of the high sensations to come in the game where you battle legendary creatures in superpowered combat with today's captivating gameplay reveal trailer.

Rise from the Dust

Take on a heroic journey through a variety of breath-taking environments, swiftly gliding through the desert landscapes of a vast sand-covered world. Explore ancient ruins and unearth the mysteries and secrets of a fallen society. Fight a corrupt god and extraordinary beasts thanks to the divine power of your shape-shifting weapon. Unlock powerful skills and abilities to build a unique moveset and rise as the champion who will liberate the people of Atlas.

A Heroic Signature Edition

Get your hands on the ultra-limited Atlas Fallen Signature Edition, a Focus Entertainment Store-exclusive product available in only 100 copies. It includes a numbered laminated wooden frame printed with an exclusive artwork by Deck13's Artistic Director, James Lowe, an official certificate, and a copy of the game that includes the "Ruin Rising Pack" downloadable content. The PC edition comes as a Steam key while console editions come as physical copies with Lowe's artwork as exclusive box art. Pre-orders are now open, the time to grab this limited opportunity is now!
Atlas Fallen is due out for PlayStation 5, Xbox Series, and PC via Steam on May 16.
Watch the trailer below.
"Rise from Dust" Gameplay Reveal Trailer