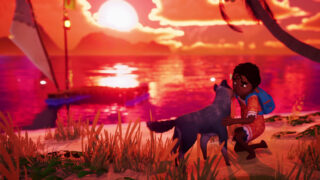 Tchia will launch for PlayStation 5, PlayStation 4, and PC via Epic Games Store on March 21, publisher Kepler Interactive and developer Awaceb announced. It will also be available via PlayStation Plus Extra and Premium.
The companies also anounced the Tchia "Oleti" edition, which includes a selection of cosmetic items inspired by Kepler Interactive's family of games, such as Cat Quest, Flintlock: The Siege of Dawn, Sifu, and Scorn.
Here is a brief overview of the game, via Kepler Interactive:
When her father is abducted and her home is taken over by Meavora, the archipelago's tyrannical ruler, Tchia, the game's heroine, embarks on a grand adventure fueled by mystical wonder and disarmingly tender moments. As players traverse this fictional land inspired heavily by the island nation of New Caledonia, they'll be introduced to a variety of new cultures, traditions and languages. Along the way, Tchia will unlock her own otherworldly abilities, letting her soul-jump into animals and objects found across her home in order to solve puzzles, traverse freely and avoid danger. Using this ability, her trusty slingshot and a magical ukulele, players will guide Tchia as she bravely frees her home from the clutches of this tyrannical god.
Watch a new trailer below.
Release Date Trailer