'Chill apocalyptic builder' I Am Future launches in Early Access on May 18
Demo available now.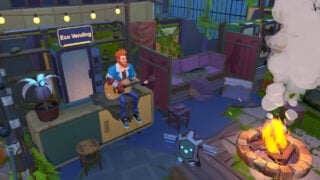 "Chill apocalyptic builder" I Am Future will launch in Early Access for PC via Steam on May 18, publisher tinyBuild and developer Mandragora announced. A demo is available now.
Here is an overview of the game, via tinyBuild:
In I Am Future, you find yourself awakened from cryogenic sleep on top of an overgrown rooftop surrounded by ocean. Earth has been evacuated, and you've been left behind with nothing but a bionic arm and a few robots needing repairs. On the plus side, the views are fantastic, and there's fresh fruits and vegetables growing nearby. With a little elbow grease (and some WD-40 for your robot arm), this could be a nice place to live.

Upgrade your arm, scavenge resources, pick plants, craft workbenches and plant gardens. There's a lot of work to do, but once you're set up, you'll be free to kick back and go fishing, then cook up a fresh meal every day. Plus, a savvy engineer knows how to delegate. Build yourself some robot pals to share the load, and this apocalypse stuff could be downright cushy.

There's no fighting for your life in I Am Future, but you will have to tend to your territory. The end of the old world brings new threats, with mutant bugs appearing at night to nibble on your plants and suck your electronics dry. Nothing a can of insecticide can't fix, but not every night can be relaxing. As for what happened here, and why you can't remember anything? That's a mystery for you to unravel one thread at a time. Fix up those robots, start asking questions and maybe send some drones out to scout the surrounding city for clues. I'm sure it'll make sense eventually. There's no need to rush.

The full version of I Am Future will feature an extensive story-driven campaign and a freeform sandbox mode, letting you enjoy this blue-and-green paradise however you see fit.
Watch a new trailer below.
Sing-Along Trailer