Sword Art Online: Last Recollection 'Story' trailer
Plus new battle and character details.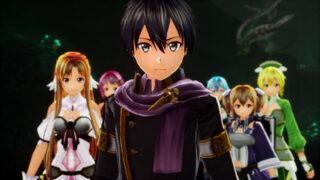 Bandai Namco has released a new trailer for Sword Art Online: Last Recollection introducing the action RPG's story.
Additionally, the following new details and visuals were shared during the Sword Art Online New Year Special 2023 broadcast:
New Key Visual

Battle Details

Battles are faster and simpler. Form a party of four and fight in real-time battles using Sword Skills and cooperation.

Action speed has been significantly improved from Sword Art Online: Alicization Lycoris. With the game's simple controls, anyone can enjoy high-speed battles just like those seen in the anime.

Experience action with fluid sword fights. Connect standard attacks to automatically derive to a Sword Skill. You can perform exhilarating combos with the press of a button.

Of course, you can also activate your favorite Sword Skills at any time.

The new weapon "Scythe" will also debut in Sword Art Online: Last Recollection. This is a tricky weapon type that debuffs the enemy and turns you into the main attacker. Increase your party's firepower while slicing up enemies.

Characters: Original

Dorothy (voiced by Rina Satou)
Sarai (voiced by Yuuki Kuwahara)

Characters: Real World

Lisbeth (voiced by Ayahi Takagaki)
Silica (voiced by Rina Hidaka)

Characters: Real World

Klein (voiced by Hiroaki Hirata)
Agil (voiced by Hiroki Yasumoto)

Characters: Human Empire

Fanatio (voiced by Hitomi Nabatame)
Scheta (voiced by Lynn)

Characters: Dark Territory

Kainan (voiced by Kentaro Tone)
Vassago (voiced by Tsuyoshi Koyama)

Asuna (voiced by Haruka Tomatsu)

Leafa (voiced by Ayana Taketatsu)

Shinon (voiced by Miyuki Sawashiro)
Sword Art Online: Last Recollection is due out for PlayStation 5, Xbox Series, PlayStation 4, Xbox One, and PC via Steam in 2023. Read more about the game here.
Watch the trailer below.
Story Trailer
English
Japanese