'Living witch cottage' game REKA for PC to be published by Fireshine Games
Due out in 2024.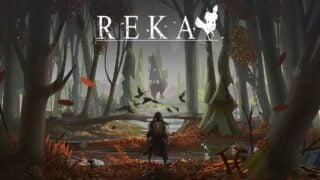 Fireshine Games will publish Emberstorm Entertainment-developed "living witch cottage" game REKA when it launches for PC via Steam in 2024, the companies announced.
Here is an overview of the game, via Fireshine Games:
REKA is an atmospheric third-person exploration and house-building game set in 19th-century rural Europe. Play as an aspiring slavic witch on her journey to master the art of witchcraft while travelling the countryside with her companion cottage: a colossal, evergrowing chicken-legged home that players must build, customize, and expand over the course of their adventure.

Venture across an enchanting European landscape with your living home, upgrading it with additional rooms, furniture, items and mementos that you find on your journey, while collecting ingredients to produce medicine and magical goods to aid—or curse—local villagers.

Design and decorate your walking house's interior with complete creative freedom, taking on quests to unlock new decorative items and make it your own. Form an unbreakable bond with your cottage as you explore new landscapes together, guided by Baba Jaga on your apprenticeship across villages, mystical forests, and more.

Master the powers of witchcraft and use the help of your familiars to gather hard-to-reach items, while collecting plants, crafting magical supplies, and discovering mythological creatures.
"REKA is the most original title we've seen for many years," said Fireshine Games marketing director Sarah Hoeksma in a press release. "Witchcraft, adventure, and a giant living house which travels and grows as your companion; the result is as mesmerizing as it is unique, but it certainly is an enchanting tale and an incredible debut from a highly-talented studio."
View a new set of screenshots at the gallery.
Screenshots