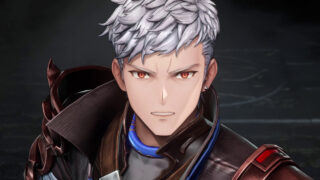 Publisher Cygames and developer Cygames Osaka debuted the "second trailer," new gameplay, and the latest information for Granblue Fantasy: Relink at Granblue Fantasy Fes 2022 – 2023, confirming Narmaya as a playable character and introducing two assist modes.
Get the details below.
■ Release Window

The release window remains 2023, as previously announced, although without a concrete date. Granblue Fantasy series producer Tetsuya Fukuhara said that the end of development is in sight and that they are currently in the tuning stage.

■ Foes

Id (voiced by Robbie Daymond in English, Kenjiro Tsuda in Japanese)

Foreboding Blade.

A knight of unparalleled strength, currently serving as one of the three generals of Avia. He poses a threat to the crew as it traverses the Zegagrande Skydom.

■ Allies

Charlotta (voiced by Cristina "Vee" Valenzuela in English, Kaori Nazuka in Japanese)

Tiny Justice.

The captain of an order of holy knights, all of whom have sworn a sacred pledge. Her sword, a weapon that cleaves evil in twain, is equal to her in both size and power.

Yodarha (voiced by Peter Kelamis in English, Shigeru Chiba in Japanese)

Illusory Fencer.

Those felled by his illusory blade are unable to tell if it was real or merely a dream. Once a world-renowned swordsman, these days he spends much of his time fishing in seclusion.

Narmaya (voiced by Brianna Knickerbocker in English, MAO in Japanese)

Ephemeral Blade.

A sword master of warrior lineage, well-rehearsed in all forms of martial arts. Using the Dawnfly and Freeflutter sword styles, her blade dances with unmatched elegance when striking down her foes.

■ Live Demonstration

7:13:03 to 7:25:23 – Gran, Rakam, Lancelot, Charlotta, Siegfried, Yodarha, and Narmaya Showcase
7:28:16 to 7:34:50 – Full Assist Mode Showcase

■ What is Assist Mode?

A mode for beginners and casual gamers who want to focus on the story.

Perform combos automatically with a single button!
Auto Heal / Auto Guard / Auto Dash.
Automatically unleash Skybound Arts, Skills, and Link Attacks when conditions are met!
Assisted map navigation.

■ What is Full Assist Mode?

An accessible mode for players who still want to fully enjoy the game's content.

Enjoy dynamic visuals in battle with simplified controls!
All actions are performed automatically—all you need to do is move the stick!
Granblue Fantasy: Relink is due out for PlayStation 5, PlayStation 4, and PC via Steam in 2023 worldwide.
Watch a new trailer below. View a new set of screenshots at the gallery.
Second Trailer
English
Japanese
Screenshots