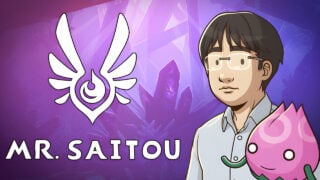 Leeble Forest has announced Mr. Saitou, a short adventure game set in the world of Rakuen. It will launch for PC via Steam on March 23, 2023.
Here is an overview of the game, via its Steam page:
About

Return to the world of Rakuen, where a new adventure awaits!

Mr. Saitou is an average white-collar worker who struggles to find meaning in a life full of constant overtime and social isolation. After an accident lands him in the hospital, Mr. Saitou is spirited away to a strange fantasy world where an unexpected friend takes him on a life-changing adventure.

Key Features

Heartwarming story with an emphasis on humor and building friendships.
A short and sweet experience that can usually be completed in one sitting.
Get to know a cast of strange creatures (both new and familiar), impress your boss, and explore a scuffed Edudungeon.
Charming art and original soundtrack featuring flowers dropping bars over electric guitars (OST included with purchase).
Meet the Sphinx of Basic Math.
Ride on a train.
Synergize, Optimize, ROIs, and cherry pies. Lots of Golf Balls. Definitely Y2K Compliant. Definitely business.