World II World 'World Trailer: Machina x Labol World'
First in a series of world introduction trailers.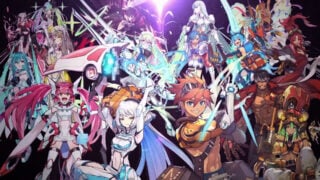 Publisher Aniplex and developer DeskWorks! have released the first in a series of world introduction trailers for upcoming mobile RPG World II World.
The trailer introduces the "Machina x Labol World" that will act as the players' first adventure in the game. It is divided into a celestial world inhabited by machines, and an earthly world inhabited by humans.
Newly introduced characters include:
Fuzhou (voiced by Gakuto Kajiwara) – A boy who from Junk District who longs for the celestial world.
Raqqa (voiced by Kana Ichinose) – A cool robot girl who lives in the celestial world.
Annette (voiced by Juri Nagatsuma) – The big sister of Junk District.
Faddle (voiced by Masaaki Yano) – The big boss who rules over Junk District.
Kirara (voiced by Hina Kino) – An exceptionally energetic, state-of-the art robot.
Nappo (voiced by Eriko Matsui) – An otaku robot who is profoundly interested in humans.
World II World is due out for iOS and Android this winter in Japan. Read more about the game here.
Watch the trailer below. View a new set of character artworks at the gallery.
World Trailer: Machina x Labol World
Character Artworks