Aniplex and DeskWorks! announce RPG World II World for iOS, Android
Full unveil set for September 17 live stream.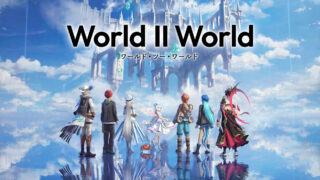 The previously teased new iOS and Android RPG from publisher Aniplex and developer DeskWorks! is titled World II World, the companies announced.
Here is an overview of the game, via its official website:
Introduction

Right now, many worlds are on the verge of crisis.

The "Division" brought discord among the people, leading to their slow demise.

Divan, the "King of the Divide," desires their demise. Weave, the "Girl on the Boundary," resists it.

In the loneliest depths, a girl entrusts you with the last remaining fragment of hope.

Story and Character

Three divided worlds:

Annulus World
Machina x Labol World
Fantasy x Reality World
Gunman x Samurai World

Staff

Planning and Development: DeskWorks!
Development Cooperation: G-STyle
Design Company: Hermit Works
Character Design: Akinari Shibata (Hermit Works), Akira Egawa, Fuzichoco
Main Illustrator: Hide, Shachi, Akira Egawa, Fuzichoco
Illustration Cooperation: Wachajack, Primal Agent, Crowd Gate
SD Character Design: Akinari Shibata (Hermit Works)
Music: Yuki Hukazawa
Cast:

Larissa Tago Takeda
Kana Ichinose
Gakuto Kajiwara
Shouya Chiba
Ai Kakuma
Yuuichirou Umehara
Shinichiro Kamio
And more…!

Publishing: Aniplex
Aniplex and DeskWorks! will share further details during its "New RPG World II World Introduction Broadcast" at Tokyo Game Show 2022 on September 17 from 22:00 to 20:50 JST, including an overview of the basic gameplay systems and first footage. You will be able to watch it on YouTube, Twitter, Twitch, Facebook, Niconico, and TikTok.
View the first screenshots at the gallery.
Screenshots